Lots of action on the Fast Food front this past week… And much of it involves menu item reboots. All the big Burger chains are in on the action and there's one special return to the market that will trigger fond (or horrid) memories for those who were high school or college students in the 80s…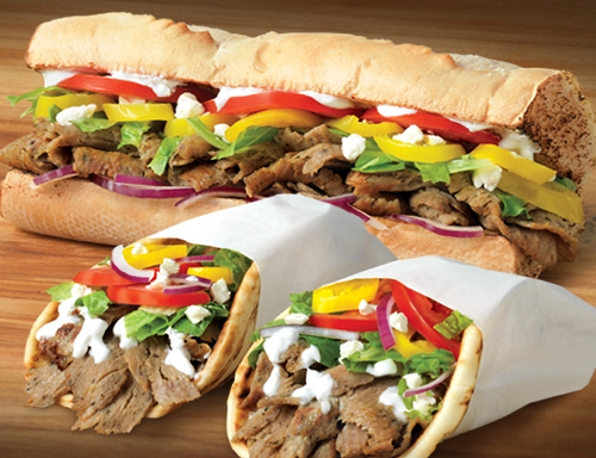 Quizno's new Gyros: They look like a winner to me!
Taco Bell brings back Naked Chicken
The Bell is ringing for Naked Chicken which is back in three forms and flavours. The Naked Chicken Chalupa is back for another limited time test run in Tennessee. New Naked Chicken and Biscuits features triangles of Chicken and Biscuit in a Fries-style cardboard sleeve. There are also Naked Chicken Chips and Naked Chicken Quesadillas on the menu nation wide, all for a limited time. Visit your local Taco Bell to see what's available in your market…
BK tries out a Cinnamon Toast Crunch Shake
Burger King has launched another in its long line of Shake flavours… Cinnamon Toast Crunch. The Burger chain has previously brought us Shakes based on Kids' Cereal flavours – Fruit Loops and Lucky Charms – and now is offering something a little grown up for Fall. It's Vanilla Soft Serve, Syrup, and pieces of the classic Cereal.
BK's Parent makes Mac 'N Cheetos treats available everywhere
Burger King's Parent company, Pepsico, has released frozen Mac 'N Cheetos treats across the country. Folks loved 'em when they premiered at BK. They come in mild Creamy Cheddar and Flamin' Hot variants. Just heat and eat. Look for them in the freezer section wherever you buy frozen specialties.
Quizno's introduces Gyros selections
The Sub shop chain is going Greek with three new Gyro-themed Sandwiches. There's a Gyro Sub (of course), a Gyro Flatbread Wrap and a Gyro Salad. All feature seasoned Beef & Lamb Gyro Meat, crumbled Feta, Banana Peppers, Lettuce, Tomatoes, Red Onions and Tzatziki Sauce. Sounds like a winner! But I'm a pushover for Greek Food, as it is…
McD's tests new Vegan Burger
McDonald's is testing a new McVegan Burger in Finland, of all places. I guess they have their reasons. They don't choose test markets by pulling names out of a hat! The new McVegan is a Soy-based "Burger Patty" topped with Veggies, Pickles, Ketchup, and something called McFeast sauce. Early reviews from diners are reported to be positive. But let's not forget that Fast Food chains have been trying to develop a Veggie Burger that would sell well for decades and may still have some developing to do.
Wendy's hops on Cokie Bandwagon
McD's and BK and other 'burger' outlets have offered cookies for some time. Now, Wendy's playing catch-up with new 'Giant' cookies. They sell for (US)$1.39 each or you can add them to a combo for a buck. They're available in Double Chocolate Chip, Chocolate Chunk and Sugar Cookie flavours.
Jolt Cola us back!
The original, 80s Energy Drink – Jolt Cola – is back. And it' selling for half the price of a similar-sized can of Red Bull. Jolt became a favourite of College students cramming for Exams and pulling all-nighters finishing term papers then disappeared when the Caffeine jolt fell out of favour with foodies. We assume it will be available along side the newer Energy Drinks in supermarkets and convenience stores across the land…
And those are the high points in Fast Food news this week….
~ Maggie J.