They've been flogging Hams really heavily in the supermarket flyers this Easter Season. They've hauled out the left-over Christmas / New Years Turkeys as well. But my choice for the centrepiece of the Easter Feast Day meal is more traditional: Leg of Lamb! And you just gotta try my marinade!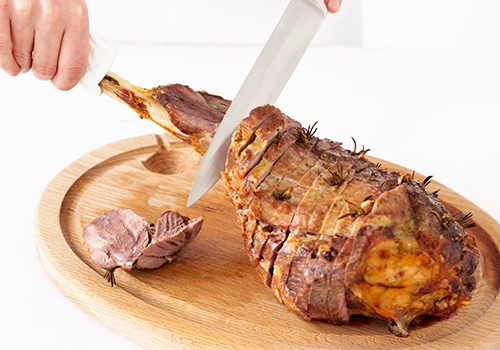 A classic Roast Leg of Lamb (bone in). This is how to carve it… Yours will be
somewhat darker in colour and more heavily glazed than this one
if you use my Hoisin Sauce marinade!
I think I'm going to take the gas Grill out of its winter mothballs and do the ancient and venerable spit-roast on mine! But you can just as easily oven roast a Lamb Leg or even throw it on the smoker. And that's just the start…
Don't hesitate: Marinate!
One thing you'll want to do before introducing it to any kind of fire is to marinate your Lamb Leg. There are many schools of thought on what to use to marinate Lamb. It's a curious meat, with flavour overtones of Turkey, Veal and Roast Pork on a background of subtle gaminess. It's Umami on the hoof!
Now… When I think of Turkey, Pork and Game, I think pungent, rich flavours. Bold Herbs like Rosemary, Thyme, Sage and, of course, Mint. Bold Spices like Cloves, Nutmeg, Paprika and Cinnamon. Dry Red Wine and Brown Sugar. Some blends of those wonderful ingredients speak with a European voice. But others have a definite Asian ring to them. I played around, for years and years with different blends of sweet and sour and spicy and herby. But I've never come up with anything as pleasant and well-balanced – and as acceptable to all palates – as this simple combination:
6 medium cloves Garlic, finely chopped or pressed
Several sprigs fresh Rosemary
1 cup Hoisin Sauce
Juice of 2 Limes
Salt and Pepper
Hoisin is a Soy-Sauce-based Asian condiment enriched with Garlic, a soupçon of Hot Pepper oil, and other ingredients varying by region. I like to add some Tamarind and some citrus – Lime Juice by default. But you can use anything you like. Most Hoisin blends also include a dash of Honey to balance the spicy and sour notes.
The marinade works just as well where your Leg is bone-in or deboned.
Now, get to work…
Dry the lamb Leg with paper towels or an old kitchen hand towel. This will help ensure it roasts up nice and brown. Transfer to a roasting pan or casserole dish and sprinkle liberally with Salt and pepper.
In a small bowl, stir together Hoisin Sauce, Garlic and Lime Juice. Pour this mixture over the lamb Leg and massage in with your bar hands. (Gloves are permitted, to save your nails!) Allow to marinate in the fridge for two or three hours before cooking.
If oven roasting the Lamb, cut up some carrots, celery and onion coarsely, to make a bed for the Lamb. Place the lamb in the roaster, place the Rosemary Sprigs on top and pour the marinade all over it. It will run off into the bottom of the pan during cooking to mix with the meat juices and form the basis for a rich, dark gravy. Add 2 cups of Red Wine or, if you prefer, beef or Veal stock to the pan.
Put the roaster, uncovered, in a preheated 400 F oven on the middle rack. Roast at 400 F for 30 to 40 minutes, until nicely browned. then, turn the oven down top 325 F. Continue roasting until the Internal temperature of the thickest part of the meat reaches 145 F. Remove the Leg from the roaster and set the pan aside. you'll want the juices in a minute. Place the lamb on a large platter or cutting board and cover with foil. Leave half an hour at least to rest before carving.
Strain the pan juices to remove all solids and then return the juices to the pan. Bring to a boil. Add A slurry (half COLD water, half flour, beaten together with a fork or whisked until smooth) to the juices, stirring constantly until the slurry is evenly distributed and the gravy starts to thicken. Simmer until the floury taste cooks out; maybe anther 20 minutes.
What about The Grill?
Prep the lamb as above, but instead of placing it on a bed of veggies, place it on a rack over a pan deep enough to hold the marinade and an equal amount of roast juices. Roast at 325-350 F basting frequently with the marinade and accumulating juices. Cook until the thickest part of the meat reaches 145 F and rest as described above.
If you have a rotisserie attachment for your grill, spit the Leg and roast over the same sort of pan, basting frequently.Tie the Rosemary Sprigs onto the Leg with cotton butcher's string,
Rest the Leg as described under Oven Roasting and make the gravy in the same way.
Other vistas…
You can also braise or stew a Leg of Lamb. Use the vegetables I recommended for the Pan-Roast option, above, and up the total liquid to cover the meat 2/3 of the way up. Use more stock, rather than water, to ensure the gravy comes out really rich and meaty!.
Enjoy!
Like all recipes, this lamb treatment is really just a technique. Adjust the ingredients to make it your own… Become a culinary legend in your time!
~ Maggie J.