If you thought the florid, wordy descriptions on the menu at the last fine dining restaurant you patronized were over-the-top, wait 'til you read the latest request for standing offer proposals from Canada's Department of National Defense for food services at it's Trenton, ON, air base…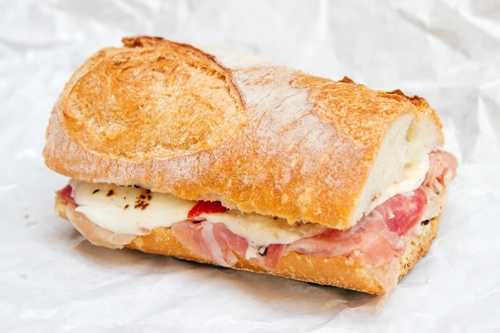 Your basic RCAF-style six-inch Sub Sandwich – meat and cheese only ;
no Onion or other veg. And don't forget to slice it 'DIAGONALLY'!
Okay… It's not really 37 pages of menu items and descriptions. It's more like a lot of pages of menu and preparation instructions surrounded by a huge pile of administrative stuff, much of which appears to be common to all major government bid documents. But the detail into which they go with the menu listings and food preparations requirements is, to say the least, obsessive.
Appendeix A of the bid document comprises 18 pages of 'product descriptions', all for what you'd call box lunches. There are different menus for Breakfasts and Lunches/Dinners, plus the inevitable Vegetarian option. Have a gander at the general requirements for plain, old sandwiches…
A. The following are the specifications for the various Sandwiches required:

Gas flush;
Lunch box style wrapping;
No vegetable or onion in product;
All sandwiches must be spread with margarine;
All sandwiches must be cut "DIAGONALLY".
(The bold face type and capital letters on "DIAGONALLY" are as found in the document.)
The Gas flush is simply a puff of inert gas into the product wrapping to purge oxygen and, thus, prolong the product's wholesome life. These box lunches are intended primarily for feeding crews on RCAF flights where there may be no refrigeration facilities available.
The requirement that no Onion be used in the sandwiches is understandable, given that some folks are allergic to Onions. But no other vegetables? Apparently no dietitian was consulted when creating this menu…
Why it is so important that the sandwiches have to be cut "DIAGONALLY" is not explained.
Anyway…
I have had the experience – a very rare one among non-RCAF personnel – of sampling one of those box lunches. Here's the story…
Back in the misty days of my personal past, I was a newscaster and reporter at the local radio station in Belleville/Trenton. One summer, I was assigned to cover the annual RCAF competition, held at CFB Trenton, for navigation and air dropping accuracy. You see, Trenton is the headquarters of RCAF Transport Command, where personnel and cargo flights originate heading all over the world. I was supposed to go aboard a big C-130 Hercules cargo plane as it flew across the scenic Bay of Quinte and air-dropped a load of dummy cargo at the old WW II fighter pilot raining base at Mountain View. I figured I'd be back in time to file the story for the noon news…
Hah!
It turned out to be an all-day exercise in navigation covering more than 700 km / 425 mi. as the Herc flies. Hence, there was produced, at the appropriate point in the flight, the RCAF Box lunch. That was 38 years ago, and – based on the description in the new bid document – the menu hasn't changed one bit! Amazing!
Be sure to have a look at the full RFSO document. It's an eye-opener, especially if you've ever worked in the food service industry and thought your boss's demands were severe!
~ Maggie J.