On the weekend, we inaugurated a new series – Classic Dishes made easy. We'll follow up the intial offering, Pasta Primavera, with another Italian favourite, Spaghetti Bologonaise. It's a benchmark and a standby for many when they try a new Italian restaurant – and it can be a staple for you!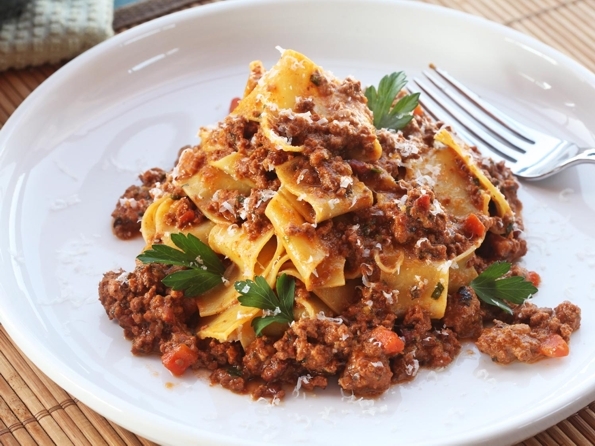 Classic Pasta Bolognsaise, using Tagliatelle. Any Pasta will be just as good as any other!
Here';s a dish that is really easy to make and, yet, is avoided by some cooks because they think it's complicated. I'm going to prove to you that's not so.
Here's what you need…
1 tbsp. / 15 ml Olive Oil
4 tbsp. / 60 ml Butter
2/3 cup / 45 ml Celery, finely chopped
2/3 cup / 45 ml Onion, finely chopped
2/3 cup / 45 ml Green or Red Sweet Pepper, chopped
3 cloves Garlic, peeled and finely chopped
1 lb / 450 g ml  Ground Beef or Veal (not too lean)
Salt and Pepper to taste
Italian Spices to taste (Oregano, Basil and Rosemary)
1 cup / 250 ml Whole Milk or Light Cream
1 cup / 250 ml Dry Red Wine
1 1/2 cups Roma Tomatoes, chopped (may be canned)
Enough Pasta for 4 to 6 servings (You know how much you like!)
1 Big handful Parmesan or Romano Cheese, freshly grated.
Here's what you do…
In a large frying pan, sweat the Vegetables and Garlic in the Oil and Butter. That means, cook gently on medium low heat until the Onions are transparent. Don't brown them!
Add the Ground Beef and scramble fry, distributing the meat evenly within the veggies.
Season with Salt and Pepper and add your choice of Italian Spices; a couple of good pinches of each. Let the Spices toasty for a minute or until you can smell them giving off their tell-tale aromas.
Deglaze the pan with the Red Wine. That is, add it to the pan and stir vigourously to get all the delicious brown bits off the bottom of the pan.
Add the Tomatoes and stir.
Let the mixture simmer down for a few minutes to concentrate, or 'reduce' the wine.
Add the Milk/Cream and stir the mixture well.
At this point, you can just place a lid on the pan and settle the Sauce on a slow, gentle simmer. Continue to cook for at least 2 hours, or until the wine and Cream have melded into the dish making a smooth. thick Sauce.
OR – You can transfer the mixture to a slow cooker and cook it on Low for 3-6 hours.
Whichever method you choose, stirring from time to time. This keeps the ingredients incorporated and lets you check to see if the Sauce is drying out. If so, add some more Wine or some Warm Water.
Start the Pasta of your Choice in a large pot of rapidly Boiling Water about 20 minutes, or until it's the 'bite' consistency you prefer. Spaghetti is traditional, but I generally use Linguine or Fettuccine. I know an Italian cook who swears by Penne Rigate! Use whatever you like
Taste the sauce for Seasoning and adjust if necessary just before serving.
Ladle Sauce over Pasta and top with a generous sprinkle of Grated Cheese.
Serve your family or guests and prepare to be showered with praise!
Mangia! Mangia!
~ Maggie J.