We'll leave Italy for a while and cross the Alps to the general vicinity of Eastern Europe for a look at a classic Stew. Hungarian Goulash may be the most misunderstood of Stews, Hungarian Goulash is neither 'hot and spicy' nor is it hard to make. And it's great over egg noodles…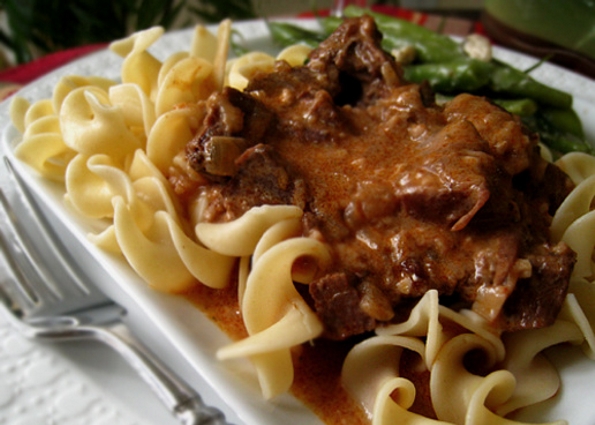 Traditional Hungarian Goulash, over Egg Noodles, Garnish with Parsley or Basil if you want.
Pair it with a Good Hungarian Beer or a hearty dry Red Wine.
Hungarians will tell you their Goulash is not a Stew, but a Soup. Or something in between. Whatever it is, they love it and you will, too.
What you need…
2 lb. / 500 g Beef, cubed 3/4 in. / 2 x 2 cm
2 tbsp. / 30 ml. Canola or other flavourless Oil
2 medium Onions, coarse chopped
2 cloves of Garlic, chopped
1-2 Carrots, diced 1/2 in / 1.5 cm
2 medium Tomatoes, peeled and chopped, or 1 tbsp. Tomato Paste
2 Green Peppers, diced 1/2 in. / 1.5 cm
2-3 medium Potatoes, sliced and diced 3/4 in / 2 cm
1.5 tbsp. / 20 ml Hungarian Paprika powder (sweet, not roasted)
1 tsp. / 5 ml ground Caraway Seed
1 Bay Leaf
Black Pepper and Salt (to taste)
Water
What you do…
Start the Oil, Garlic and Onions on Medium heat in the bottom of a large, deep saucepan. Add the Beef cubes when the Onions have turned translucent Brown the Meat and turn the heat down to Medium.
Add the Paprika, Spices and Bay Leaf. Pour in enough Water to cover the Meat and Veggies. Cook covered on Medium for at least an hour, more like an hour and a half, until the meat is tender.
Add the Carrots and Potatoes and stir to combine. Pour in another 2-3 cups / 500 – 750 ml Water (depending on how thick you want the finished Sauce to be). Replace cover on pan and braise on Medium for another 45-60 min., as long as it takes for the Veggies to soften and the Meat to get fall-aparty.
Now, add the Tomatoes (or Paste) and the Green Pepper, and stir to combine. Cook another 5-to to 10 minutes. Leave the top off the pan to ensure a thick sauce.
Bring the mixture to a boil and serve over Egg Noodles, Hungarian Dumplings or Roasted Potatoes. (Hungarian Dumplings are similar to German Spätzle; small pieces of dough cooked in Salted boiling Water or right in with the Goulash.)
And that's it!
It's actually simpler than it looks here, on the page. Once you've made it the first time, you'll hardly have to refer to the recipe again!
Cheers!
~ Maggie J.