The Cineplex movie theatre chain has launched a downright loopy promotional campaign, centred on what sounds like something that came to a concession stand employee in a fit of boredom during a long, slow night behind the counter. Ever wondered if Lightening will pop Popcorn?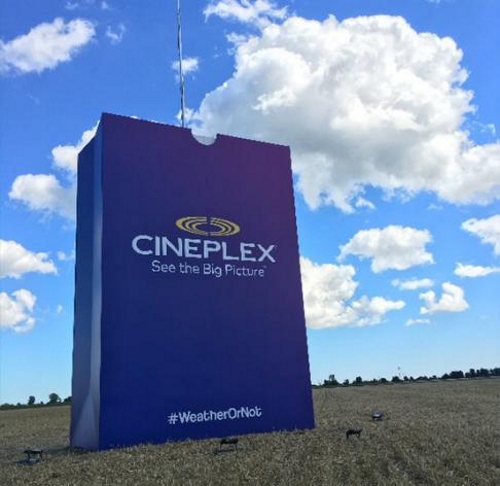 The Big Pop, complete with lightening rod. What's your bet?
This one may rightfully belong under Menu Madness, but it's not the food that's the focus. It's all about whether you can pop a sack of Popcorn by tying it to a lightening rod and waiting for the next thunder storm. No kidding.
Cineplex Entertainment has put a 20-foot / 6 m tall bag of Popping Corn with a lightening rod in it in a field near Windsor, ON, and is waiting for what it hopes is the inevitable to happen. Cineplex is hoping, first, that lots of news organizations and bloggers like me will cover the 'story' so it gets mega free publicity. Second, the chain is hoping ordinary folks visit its contest website and register their opinions about whether the Big Pop will actually work. There's a 24/7 live online Pop-Cam onsite and everything.  Pop in early! Pop in often!
"But WHY?!" I hear you say…
Cineplex says it's all to remind folks that a movie theatre is the ideal place to seek cover when the weather is crappy. Hard to argue with that! but I prefer to make my own popcorn at home, with my own seasonings and without the Artificial Butter Substitute and Excess Salt the theatres use to make you by more high-profit fountain drinks.
Windsor and area is a well-known lightening strike hot spot. We'll keep an eye on the Pop-Cam and let you know the outcome. The Big Bag will stay in the field until September 2.
~ Maggie J.