BONUS POST: Michael Delligatti passed away at the age of 98 this week, an AP dispatch confirms. It was one huge McDonald's menu addition that did not spring from the minds of the corporation's brain trust in Oak Brook, IL, and it helped shove McDonald's to the forefront of the Burger Market.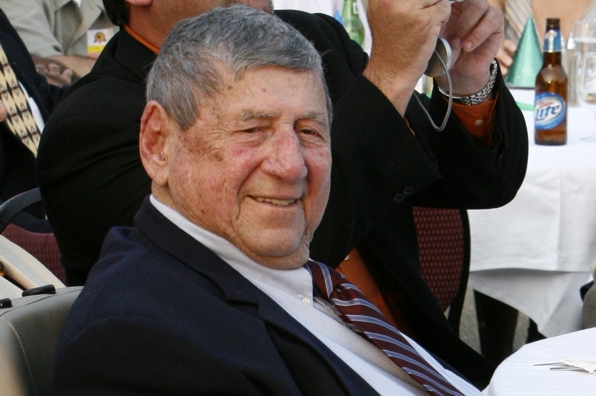 Michael James 'Jim' Delligatti, creator of the Big Mac, at his 90th Birthday party.
The Pittsburgh Post-Gazette eulogized Delligatti at length.
The article says got the idea for the Big Mac almost 50 years ago, when he was a Pittsburgh-area franchisee. In the end, he owned more than 40 McDonald's outlets in western Pennsylvania.
Michael James 'Jim' Delligatti was already in the Burger business when he attended a franchise show in 1955, where he met Ray Kroc, legendary business guru of McDonald's. He thought he could do better than the McDonald's franchise plan suggestions on controlling prices (and boosting profits) so he switched to the soon-to-be-legendary McBrand and soon became close to the head office.
At age 47, he came up with the idea for the Big Mac. At first, the head office would only let him use the standard single-sliced bun already on its ingredient list. Even at the start, Delligatti wanted a double-sliced one, and – as we all know – the corporation eventually gave in. The first Big Macs to be sold hit the grill in 1967 and cost 45 cents. Of course that was a time when the McDonald's Hamburger cost 10 cents and a Cheeseburger sold for 15 cents, if I remember correctly.
At the age of 89, when he retired, Delligatti told the Post-Gazette he still dined on a Big Mac at least once a week.
A McDonald's statement called Delligatti, "a legendary franchisee within McDonald's system who made a lasting impression on our brand. We will remember Jim as an insightful franchisee, a knowledgeable businessman, and an honorable gentleman who left a legacy of four generations of family members running great restaurants in Pennsylvania and North Carolina."
What a guy! A veritable lion of the restaurant business…
Seems to me that Ray Kroc was really smart in recruiting Delligatti to the McFamily way back at the beginning. Just think: If Delligatti had gone his own way, McDonald's might be fighting to catch up to Delligatti's Hamburgers today, the menu headliner of which would surely be the Big Jim – two All Beef Patties, Special Sauce, Lettuce, Cheese, Pickles, Onions on a double-sliced Sesame Seed Bun!
~ Maggie J.