If you, like me, served Ham for New Year's Dinner, you'll probably have as much or more left over than you actually put on plates for your friends and family the first time around. The good news is, there are multitudes of ways to serve leftover Ham, some of which will make you look like a wizard!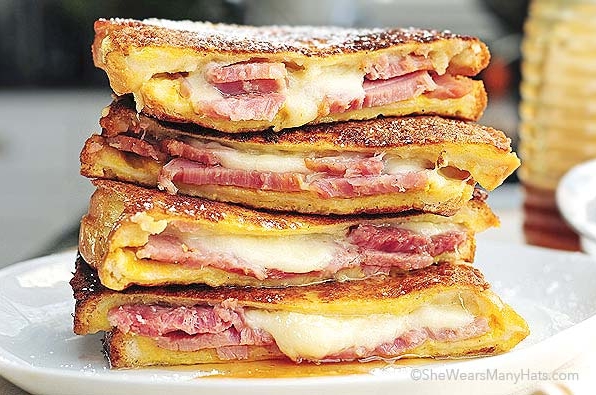 Your basic, drippy, delicious Monte Cristo Sandwich. Think of it as French Toast
stuffed with Ham and Cheese…
Okay… We all know about the obvious ways top ploughshare leftover Ham: Sandwiches, Hash, Ham Mac and Cheese… the list goes on. But here are some ideas that you may not have considered!
Ham and Cheese Quiche. A Pie Crust, 4 beaten Eggs, 1/2 cup Cream, 1/2 cup Diced Onion, 1 cup diced Ham, 1 cup Grated Cheddar Cheese.
Ham Breakfast Bake. Get the whole story at this post…
Ham Bone Soup. Just like it sounds. If your Ham had a bone, leave lots of meat on it and simmer it covered for two or three hours in enough water to cover it. Add diced Carrots, Onions and Celery. And anything else you'd like in your Soup. Don't forget some Pasta – Elbows, Penne, Rotini – to make it a complete meal!
Scalloped Potatoes Encore (with Ham). If you made Scalloped Potatoes to go with your New Year's Ham, you probably have lots of them left over, too. Warm them up enough to make the Sauce liquid again and fold in lots of Cubed Ham. Spread in an even layer at least 2 in. / 5 cm deep in a new, smaller casserole dish. Top with Grated Cheddar Cheese and bake covered until the sauce bubbles.
Monte Cristo Sandwich. A Ham and Cheese Sandwich soaked in an Egg and Milk mixture and pan fried. Like stuffed French Toast. Folks will want seconds!
Cuban Sandwich. Ham, Cheese, Turkey, Mustard and Pickles, on a Sub Roll, Ciabatta Bread or Fresh Baguette. Toasted.
Ham Taco. Just like it sounds. Wing it, with Ham and whatever you want in the Tortilla. As you probably know, Cheese, Lettuce and Pico de Gallo are musts.
Ham and Cheese Scone. Just add cubes of Ham and Cheddar Cheese to your favourite Scone or Biscuit recipe. Great for Breakfast, Lunch, Supper or anytime. Especially good accompaniment to Chili!
The list goes on and on. There are dozens if not hundreds of posts listing thousands of recipes using using leftover Ham. I estimate that a full 1/3 of them are variations on the old, standard Breakfast/Brunch Bake. That's sad. But it just proves how popular and enduring the Bake is! Aside from that, it seems just as sad that almost all of the leftover Ham recipes incorporate Cheese, Eggs and Bread. Or all of the above. In my concise but varied list, I've tried to showcase uses for leftover Ham that span a variety of cultures and food styles. Have fun and love Ham Encore!
~ Maggie J.