We all know that the Mediterranean Diet has been shown to have heart-health benefits and benefits for those fighting Diabetes. But, now, researchers say it may also help older folks retain and sharpen their cognitive abilities. And there's another diet specifically created to feed the mind…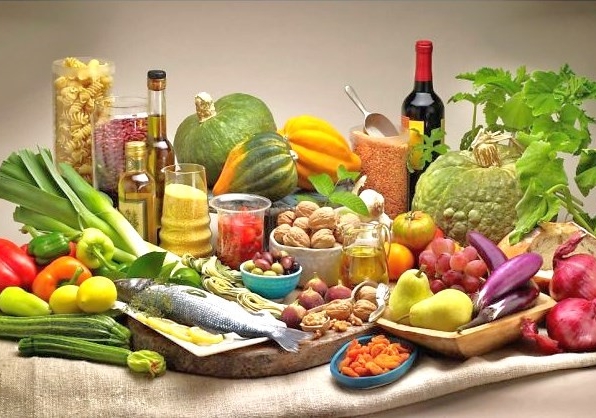 The Mediterranean Diet. Looks pretty good to me!
The Mediterranean diet is rich in fruits, vegetables, whole grains, beans, potatoes, nuts, olive oil and fish. Processed foods, fried and fast foods, snack foods, red meat, poultry and whole-fat dairy foods are infrequently eaten on the Mediterranean diet.
The MIND diet is a version of the Mediterranean diet that includes 15 types of foods. Ten are considered "brain-healthy:" green leafy vegetables, other vegetables, nuts, berries, beans, whole grains, seafood, poultry, olive oil, and wine. Five are considered unhealthy: red meat, butter and stick margarine, cheese, pastries, sweets and fried foods.
Researchers conducting the U.S. Health and Retirement Study had participants fill out questionnaires about their eating habits. The results were used to measure the participants' cognitive abilities – mostly on memory and attention skills. They found that older people who ate a Mediterranean-style diet had 35 per cent lower risk of scoring poorly on cognitive tests. Even those who ate a moderate Mediterranean-style diet had 15 per cent lower risk of doing poorly on cognitive tests. Those study participants who had been following a Mediterranean regime for longer periods of time had correspondingly better test results.
The study, in the latest issue of Journal of the American Geriatrics Society, bolsters other reports lauding the Mediterranean Diet on a number of accounts. Dietary and medical experts have speculated that the Mediterranean Diet is naturally high in healthy foods and low in unhealthy foods.
If you're not already 'eating Mediterranean', there's no time better than the present to take a good look at it…
~ Maggie J.