Call them Tea Biscuits, Butter Biscuits, Baking Powder Biscuits or just Biscuits… They're all essentially the same thing, and they represent a culinary tradition that has been spread around the world by British emigrants.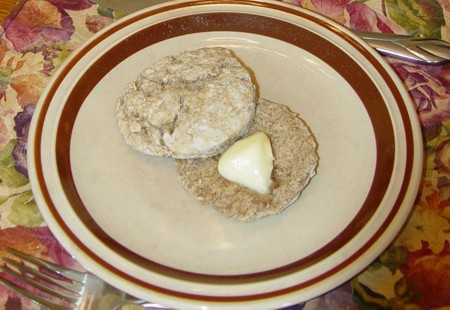 An old fashioned, scratch Biscuit with it's best buddy, Butter.
I also added a teaspoon of nutmeg for extra flavour…

Perfection in simplicity
The best recipe I've ever tried for Tea Biscuits is my Mom's recipe. Sure, you might expect me to be partial to Mom's since they were the first ones I tasted, when I was barely onto solid food… I've tried to be fair, over the years since, when comparing other products with her's. I haven't found any recipe that comes close to Mom's in its light, flaky texture, buttery flavour and overall yumminess.
But here's the kicker: Her recipe isn't exactly her recipe. It's the one out of her old standby cookbook. No, not The Joy of Cooking, though she's been known to paper-clip a page or two in that one, as well. It's her high school 'Household Science' manual, from the 1930s.
It's a treasure trove of easy, wholesome and economical dishes that are elegant in their simplicity and priceless in their ability to evoke one's childhood.
But back to the biscuits…
Here, without further ado, is Mom's Tea Biscuit recipe, courtesy of Theory and Practice in Household Science (© 1937 – Winnipeg Public Schools):
2 cups flour
4 tsp. Baking Powder (or more; play with the recipe!)
1/2 tsp Salt
2 tbsp. Fat *
2/3 cup Milk or Water
*You could use Vegetable Shortening, Lard, Butter or any hard Fat you like for this recipe. It all depends on how you like your biscuits to taste.
Whisk together the dry ingredients in a fairly large bowl. That's as good as sifting; maybe better! Use a pastry cutter to cut in the fat until you get a fine, mealy consistency. I sometimes grate frozen butter on a box grater and just mix it into the dry stuff until all the pieces of batter are coated. Pour in liquid gradually (in several additions) cutting the mixture all the while with the pastry cutter or a table knife. when the dough comes together and is smooth, turn out onto a floured board, pat or roll out to about 3/4 in. thick and use a cookie cutter – or any old drinking glass or coffee mug that's the size you want – to cut round Biscuits. Keep your cutter well floured during this process. Or cut in squares and bake as is on a cookie sheet or in a cake pan. They'll separate beautifully after baking!
Set round Biscuits close together on a cookie sheet or in a cake pan. Brush over the top lightly with Milk and bake for 10-15 minutes in a hot oven (400 F to 425 F).
Enjoy them hot with butter and your favourite Fruit Preserves. Marmalade is traditional in our Scottish household. Elsewhere, south of the Mason-Dixon Line, they eat them with sausage gravy. I've even seen them used, sliced horizontally, as a foundation for Chicken à la King and Chili.
But wait! There's more!
If you simply add a couple of more ingredients, you can transform your Biscuit dough into a host of other delicious delicacies!
Notably…
Add 2 more tbsp. of Fat, 3 tbsp. of Sugar and two good handfuls of raisins to make Scones. Shape into round cakes about 8 in. in diameter and 3/4 in. thick. cut into quarters or eighths, so portions will pull apart easily after baking. Glaze with a brush of milk, if desired. Bake as Tea Biscuits.
Cut the basic Biscuit recipe in half and break the raw dough into rough clumps to create Dumplings to top a stew or soup. You may want to add another tbsp. of Baking Powder and a little more liquid for Dumplings. I make mine kind of loose and use a big spoon to portion them out into the stew pot.
To make old fashioned 'pastry-style' Cinnamon Rolls, add 2 more tbsp. of Sugar to the basic Biscuit dough recipe, roll out to about 1/3 in. thick and coat thinly and evenly with Butter, Cinnamon, Brown Sugar and Raisins. Roll up the sheet of dough into a tight roll sealing the outside edge with a brush of beaten Egg or Milk. With a sharp knife, slice into 1 in. spirals. Bake as Tea Biscuits.
For 'cakier' products, such as Fruit or Nut Loaf, add 2 more tbsp Sugar, 1 or 2 Eggs (depending on how you like your Quick Breads – more cakey or more bready; for breadier texture, use the second Egg). Add spices as desired to complement your fruit flavours. Pumpkin Pie Spices are a popular choice. Add enough Milk or Water to make a stiff batter. Fold in dried Fruit of your choice, Pour into a greased and floured loaf pan and let stand in a warm place for at least 20 min. to 'mature'. Bake at 325 F to 350 F for 1 hour.
Yummy Dutch Apple Cake ('Dutch Baby') is just a short step from basic Biscuits. Add 2 more tbsp. Fat, 2 more tbsp. Sugar and an Egg. I like to ass a little more liquid, to make sure the dough is soft and will rise to engulf the apples – not pourable, but very loose. Pat out into a a cake pan about 1/2 in. thick. Use lots of Flour on your hands! Core, peel and slice apples into lengthwise pieces and set into the dough in lengthwise rows, with their round sides up. Sprinkle the top with a little Cinnamon and plenty of Sugar. Brown sugar is really good, here. I sometimes use, or add, other fruits in season. I love peaches (fresh or canned) in this cake. Blueberries, Strawberries are excellent, too. Bake as Tea Biscuits, or as long as it takes for the batter to rise and turn golden brown on top.
Other variations include using more Sugar and Spices of your choice in the basic Biscuits recipe to make Steamed Puddings with fruit. The traditional recipe calls for 1/2 cup Milk and 1/4 cup Molasses. You can use any thick liquid you like, along with the milk. Try Honey! Or fruit Jam! Or whatever you think looks interesting… Just be sure to add no ore than total of 1 cup liquid for every two cups Flour. Pour into individual ramekins and top with fruit. Bake at 325 f to 250 f for 1.5 hours. Or, bake in a single large bowl (Pyrex-type casseroles are good; French White is lovely to bring to the table!), for 2.5 to 3 hours.
And… You can use basic Biscuit dough as a Rich Crust for Meat Pies instead conventional short pastry.
The list goes on…
Play with this versatile, delectable comfort food! Make the immortal, inevitable Tea Biscuit your own! And make unique childhood memories for your family!
And stay tuned for more from Theory and Practice in Household Science in future posts!
~ Maggie J.