Who among us can truly say they have not been touched, in some way, by the week's most scandalous food story? I refer to the post by a Subway fan "down-under" documenting the lamentable fact that his "footlong" sandwich came in at only 11 inches.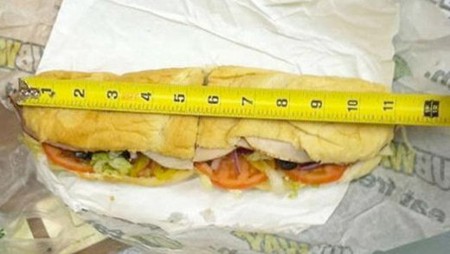 The phone-cam image, by Aussie Subway patron Matt Corby, that started it all.
I say: Big, Fat, Hairy Deal.
UPDATE – Jan23/13: Jersey boys sue Subway!
A couple of New Jersey men have launched a lawsuit against Subway over the short-bun scandal. Really. They claim that, "Subway deliberately and systematically shortens its sandwiches to 11 or 11.5 inches."
And that, say the plaintiffs constitutes, "an unconscionable business practice." We'll see. Read on and see why I don't think they have a case. And remember, all the while, that Subway advertises its large sandwich as a "Subway Footlong". The company is on record already as saying that's a trade name, not a statistical promise.
Give the foodservice industry a break!
My partner, Erin, and I are both foodservice professionals. We bake our own bread almost daily, here at Maggie J's Catering, and we know what's what.
Considering the volumes in which Subway deals with dough makers and other suppliers, that 11 in. bun can't cost more than a nickel. Really. More like $0.03.
The veg, trimmings and sauces on a footlong might clock in at a total cost to Subway of $0.75. That's generous. The meat, by weight, should average no more than $1.00.
That's a total of, max, $1.80. You pay around $7.00 for that Sub before extras and applicable taxes.
Of course, that doesn't take into account the outlet owner's cost of packaging, rent, insurance, equipment, maintenance, utilities, and the small royalty franchisees pay Subway on each sale. Not to mention the main cost of a Subway sub (or any other fast-food product) – the labour to prepare it.
Follow the Golden Rule
However… Consider the Restauranteur's Golden Rule: Food Cost must not surpass 33 per cent of the menu price for any menu item if you hope to make a profit.
The Subway business model works out like this:
Total food cost per footlong Sub (per the cost estimates above) = $1.80
That's a mere 26 per cent food cost.Subway and its franchisees are doing just fine, thank you.
So I ask you… Why would an outfit like Subway, flush with profit and mobbed by faithful fans, ever risk their brand's goodwill to save a 1/4 of a cent per roll by shrinking them to 11 inches? Over a million sandwiches, that's just $2,500 in savings. The that they're out to cheat people is just nuts!
A tempest in a teapot
After talking to Subway staffers in our town today, we confirmed that the bread dough for Subway rolls is ordered and sold to them by weight, not "size". That's standard practice in the industry.
There is always some variance in the size of roll that a given weight of dough will produce after baking, depending on a host of things, including the actual temperature of the oven, the actual time in the oven and even the atmospheric pressure at the time, on the day they were baked. There's also the issue of how much and what kind of handling the dough received from the Subway employees during preparation. I could take a Subway dough ball and make it come out 14 inches long. Or, for that matter, 9 inches long.
The "11 inch bun" thing is a bogus issue; a tempest in a Sub roll.
What really matters is…
… How much you get on the bun. If the roll is only 11 inches long but I still get the same number of slices of meat and cheese, and the same amount of garnishes, what's the problem?
Companies must evolve to stay competitive
A few years ago, while on a business trip to Winnipeg, I went looking for a Subway and – lo and behold! – found two within a few blocks of my hotel, albeit, in opposite directions. At one, I got a good Sub, with all the ingredients I wanted in the amounts I expected. Four blocks away, I got a nearly-meatless sub (just three slices of Ham) with a mere scattering of garnishes and one slice of cheese. Same order, same price charged to me, just two days later, five blocks apart.
I wrote a series of complaint letters to Doctors Associates Inc. of Milford, Connecticut, the company that owns the Subway Brand, and sells franchise rights to regional managers who run a total of more than 37,000 stores in 98 countries around the world.
At the time, I wasn't really surprised that I got nothing more than a form-letter response from them – one that didn't even address the thrust of my complaint. A big, faceless company hiding behind layers and layers of PR people and management, I thought. Stonewalled. Sandbagged. Brushed off. That left a really bad taste in my mouth about Subway for a long time. I didn't go back for years.
That was then. This is now.
But that was before Jarrod lost all that weight and before the "Eat Fresh!" slogan appeared.
Now, Subway seems much more… approachable. In fact, I feel compelled to quote a point from Subway's official statement to ABC News, about Mr. 11 Inch Bun's complaint:
""We are committed to providing a consistent product delivering the same amount of bread to the customer with every order. The length however may vary slightly when not baked to our exact specifications. We are reinforcing our policies and procedures in an effort to ensure our offerings are always consistent no matter which Subway restaurant you visit."
Good on you, Subway! That's what's really important. Now, see that you come through on the commitment.
~ Maggie J.