When a restaurant in Sherbrooke, Québec, mistakenly served a guest Salmon Tartare earlier this week, the diner – who suffers from a seafood/fish allergy – almost died. Now, the server who served that table has been arrested and may face criminal charges. But there's more to the story…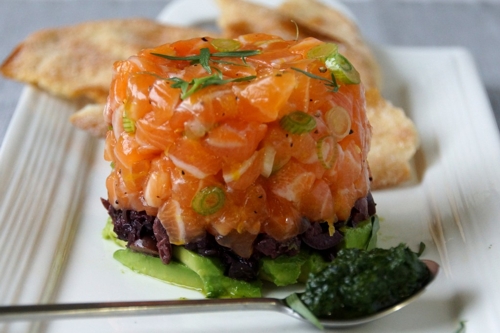 A classic Salmon Tartare: With a spoonful of Caviar and an Avocado salad.
A delight to some; deadly to others.
The story up to now
A server failed to note that the Tartare plate he was serving an allergic diner was Salmon, not Steak, as ordered. The diner collapsed on the spot and fell into a coma. He almost died. I haven't read anywhere – yet – whether he's planning to sue the restaurant and/or the server.
Did the server make a mistake when he sent the order ticket into the kitchen? Did the kitchen make a mistake and prepare the wrong Tartare? We don't know. But these questions will undoubtedly be central to his trial, if criminal charges are laid. Yes, the server has been arrested as an in-depth investigation continues.
The scene of the possible crime
Le Tapageur is a gastropub on Sherbrooke's toney Rue King. Salads, Sandwiches and Burgers from $9. to $13. Steaks and so on from $16. to $18. An extensive Tapas menu, not inexpensive. The décor is bare bricks – generally, reno-chic. Lighting is bar-low. But is it so low that you'd need a flashlight to tell Salmon from Steak?
In fact, there is little, infrastructure-wise, to differentiate this venue from any other up-scale pub/eatery. So, it naturally comes down to the people involved. And we do know that the diner told the server he had fish/seafood allergies.
What the media are not talking about
All parties involved in the TartareGate disaster must feel about three inches tall. Their very jobs are in jeopardy. They might not get fired, but the restaurant may not be able to withstand the hit it's name and reputation will take.
The last thing a restaurant wants is for a patron to fall ill because of something they ate there. Chefs take great pains to ensure the cleanliness of their kitchens and the wholesomeness of their food. Their personal reputations are constantly at stake.
All restaurants have insurance against such disasters. It isn't cheap and coverage goes only so far. But the damage to Le Tapageur has already gone far beyond the mere financial. The damage to the eatery's brand and reputation is still piling up, as media coverage permeates every corner of the world; certainly, of Sherbrooke. Doubt persists as the investigation continues. If the financial burden eventually imposed on Le Tapageur doesn't sink the restaurant, the damage to its reputation very likely could.
We'll be watching this one closely…
~ Maggie J.