This is one of my fave trade-off meals from the Slow Cooker. That is, when I want to use the Cooker but have been hitting the 'usual' faves a little too hard and want to avoid repetition. It's tender, juicy and and really flavourful. And you can make it with a minimum of preparation…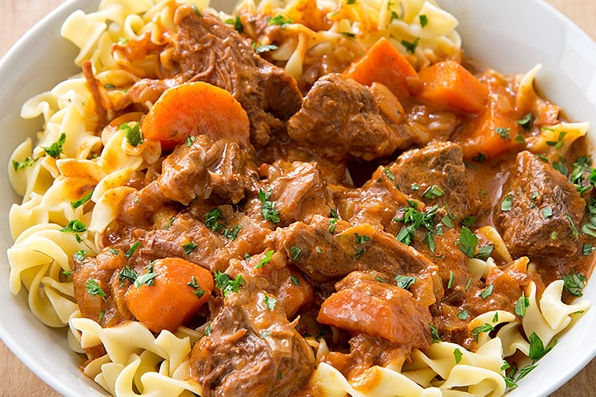 Slow Cooker Hungarian Goulash: Traditionally served over Egg Noodles…
What you need…
3 lbs. Beef Chuck, Round or Sirloin Tip Roast, cut into 1 in. / 2.5 cm cubes
3 medium carrots, peeled and sliced into 1/2 in. / 1.5 cm rounds
3 medium Waxy Potatoes, peeled and cut into 3/4 in. / 2 cm cubes
2 cups / 500 ml whole White Mushrooms, quartered or halved, depending on size.
1 large Onion, chopped
3 large cloves Garlic, minced or pressed
4 cups / 1 L Beef Stock
1/2 cup / 125 ml Crushed Tomatoes
6 shakes Worcestershire Sauce
3-4 tbsp. / 45-60 ml Hungarian Sweet Paprika (depending on your taste)
1/4 cup / 60 ml Brown Sugar
2 tsp. / 10 ml Dry Mustard
1 Bay Leaf
2 tsp. / 10 ml Salt
1 tsp. / 5 ml Black Pepper
What you do…
Place Carrots, Potatoes, Mushrooms, Onion and Garlic in the Slow Cooker.
Add in the Beef on top. And toss in the Bay Leaf.
In a large mixing bowl, whisk together the remaining ingredients until thoroughly blended.
Pour the mixture over the Beef and Veggies. With a wooden spoon, stir to combine all ingredients.
Cook on Low for 8-9 hours, until the Beef is tender.
Serve over Egg noodles, Rice or by itself in a bowl, with warm, crusty Bread on the side.
I just love this stuff on a cold winter's day or a cool summer night!
~ Maggie J.