Here's a fancy-meal favourite that many cooks steer clear of, because they think it takes hours and is picky to get just right. Nonsense! Just haul out your slow cooker and do it my way.You'll love the results! And I guarantee you'll get it just right if you follow my simple instructions…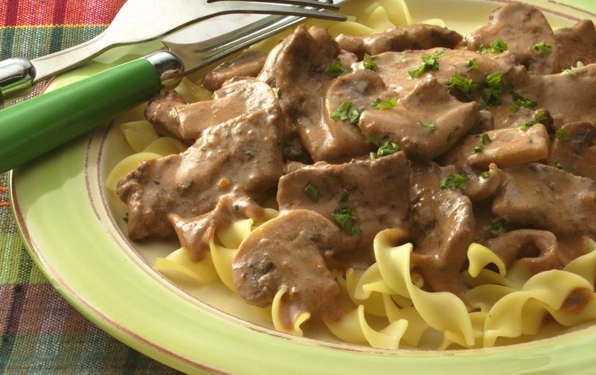 Beautiful, Classic Beef Stroganoff: Make it in your Slow Cooker and relax!
This old-world classic is not made as much these days as it used to be, That's because the traditional recipe is long and picky and a lot of folks just don't have the time. But my slow-cooker recipe streamlines the procedure without sacrificing any of the beefy, creamy flavour.
What you need…
2 lb. / 1 kg Beef, cut into strips (Use Round, Sirloin or other dense, simmering cut)
3 tbsp. / 45 ml Canola Oil
1/2 cup / 125 ml Flour
2 medium Onions, sliced
1 lb / 454 g White Mushrooms, sliced
3 cloves Garlic, chopped fine or pressed
1/2 cup / 125 ml Red Wine
1 cup (250 ml) Beef Stock
1 tbsp. / 15 ml Dijon Mustard
1/2 tsp. / 2.5 ml Paprika
2 cups / 500 ml Plain Yogurt
Parsley, chopped, for garnish
Salt and Pepper
What you do…
Toss the Beef cubes in the Flour, Salt and Pepper and, in a large fry pan, brown on all sides in the Oil. Place the Beef in the Slow Cooker.
Brown the Onions and Mushrooms in the fry pan. Add the Wine to deglaze the pan and add contents of pan, along with the Garlic, to the Slow Cooker.
Add the remaining ingredients except the Yogurt to the slow cooker and stir to combine.
Cook on low, covered in the Slow Cooker for 4-5 hours, until the beef is very tender.
Add the Yogurt just before serving an stir gently to combine.
Serve over Egg Noodles or long grain White Rice and garnish with Parsley.
You're ready to impress…
…You family or guests! It doesn't get much easier than this. Don't let cumbersome traditional recipes get you down, or dissuade you from trying classics like Beef Stroganoff!
~ Maggie J.