Back in April, we told you about how the Huy Fong Foods Sriracha Sauce plant in Irwindale, CA, was on the verge of being shut down because the City Council there decided that the overwhelming odour coming from the plant was officially a public nuisance. Well, it seems the City and the Saucier have come to terms…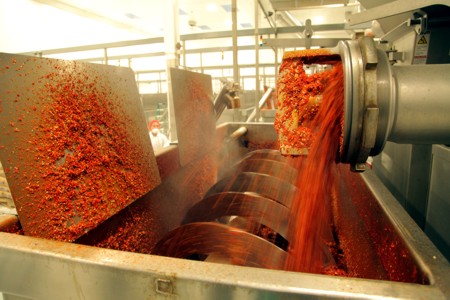 The grinding floor at Huy Fong Foods in Irwindale, CA. Here, they turn out
millions of gallons of Sriracha a year.
As you know, Sriracha is a very potent Hot Pepper Sauce originally from Thailand which has taken the foodie world by storm in the past couple of years. Demand has been so strong that Huy Fong Foods, one of North America's foremost makers of the condiment, had to expand to a larger plant last year – and that brought them into conflict with the good folks of Irwindale, where the new plant sits.
The City and South Coast Air Quality Management District (SCAQMD) authorities were inundated with complaints shortly after the new plant opened last summer. Huy Fong has reportedly been working with SCAQMD to improve its exhaust gasses filtration system since the first complaints came in but, last we heard, nothing they had tried had proven completely effective.
Problem solved, but mystery persists…
Curiously, no details have been made public as to why the City's nuisance order and an accompanying lawsuit against Huy Fong were suspended. As this recent Associated Press story indicates that there may have been more to the situation than air quality issues. It's alleged that at least one Texas municipality called Huy Fong offering a friendlier business environment, if it had to shut down in Irwindale. But that might have been too much for Irwindale and California to take, publicity-wise. In addition, California Governor Gerry Brown's office is rumoured to have been involved in closed-door discussions between Huy Fong and the City shortly before the closed-session vote.
The bottom line…
There will be no Sriracha shortage, as had been been feared by fans had Huy Fong been shut down.
~ Maggie J.