Hallowe'en is just days away and, after that, it's Thanksgiving in the U.S. and then the Christmas and New Years fests. Its Mulling Season! I'm not talking about trying to figure out what GOP Presidential Candidate Donald Trump is talking about on any given day, but how to make Mulled Wine!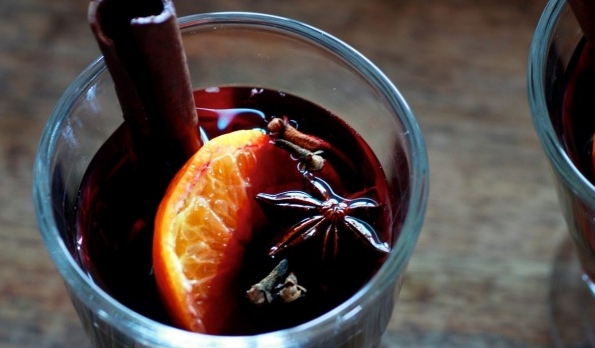 Classic Mulled Wine. It's become traditional to garnish your pot, glass or mug with
a Cinnamon Stick, a whole Star Anise and a nice slice of Orange Rind.
Mulled Wine has been around for hundreds of years and it's sworn by among lovers of the outdoors as a cure for the chills.
The story goes that some medieval gent, on arriving at a wayside Inn one cold autumn night, decided he needed more than just a flagon of good Red Wine to ward off his chills. So, he took a hot poker from the fire and quenched it in his cup. That not only heated up the wine but added some… interesting flavours. Some of those flavours were not so nice – like wood ash and pine tar – so Mullers soon started adding spices to cover them up.
Word got around, others tried it, and still more folks refined what we now know as the Art of Mulling. While you can still plunge a red-hot iron into your Wine, most folks just put a put on the stove and measure in as many glasses of Red as they want to serve. Bring it to a gentle simmer and add whole Cloves, whole Star Anise, whole Cinnamon Bark, ground Nutmeg, ground Allspice, and Orange Rind. Fort me, the Allspice is optional. Others disagree. But every Mulled Wine fan I've spoken to agrees with me that the Cloves, Cinnamon and Star Anise are indispensable.
The longer you simmer the wine and spices, the more the spices will infuse into the Wine. And the more alcohol you'll evaporate off from the brew. It's up to you.
If you're already a Mulled Wine Fan. you'll already have your own favourite recipe, But, if you're new to Mulling, feel free to experiment with the conbinations and proportions of Spices and other ingredients., by the way: Among the other ingredients sometimes found in this beverage are Raisins and other Dried Fruits. Again, experiment to your heart's content. I have a cooking buddy who swears by Dried Cranberries. Go figure…
Therefore, go ye forth and Mull! You'll be glad you did!
~ Maggie J.