Here's a Greek Specialty as beloved as it is iconic of that wonderful, colourful, boisterous culture! If you've never made Spanakopita yourself,and thought it must involve more than a little magic to produce one in your own kitchen – read on and see how easy it really is!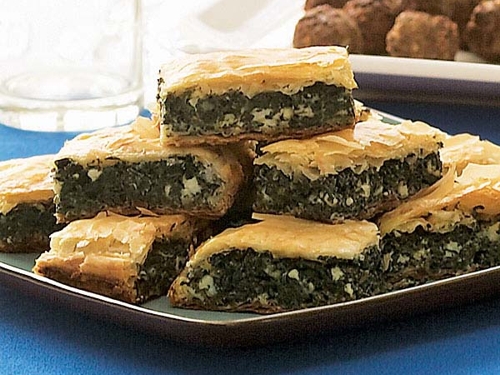 Classic Spanakopita: Firm filling studded with nice little lumps of Feta;
topped with lots of gorgeous, crispy, golden Phylo!
Spanakopita is, as are so many other Mediterranean staples, really just a simple, family dish that has caught the imagination of food lovers the world over! It's great as a side dish or a snack or an hors doeuvre!
It's less-formally known as Spinach Pie or Spinach Triangles. And it's full of good stuff!
My recipe will bake nicely in a  regular rectangular casserole dish. Something you might make Lasagna in. The 'recipe' as such is as much technique as it is ingredients.
You'll find Phylo Pastry in the freezer compartment beside the prepared Pie Crusts and the Puff pastry.I packet will do nicely.
Start with two 1 lb / 500 g packets of frozen spinach, thawed and drained of any excess water. There's no sin in using frozen spinach, here. I only use fresh in Salads it's such a travail to sweat down two lb / 1 kg of fresh Spinach in a big pot and then wring all the extra water out of them! And remember: Foods like root veggies and Spinach are picked fresh at the peak of their ripeness and frozen within minutes or a few hours of their harvest. You get all the good stuff – colour, nutrients and flavour – without all the fuss!
Now…Add the Spinach to your food processor bowl with the chopper blade in place. To that, add one large block of Feta Cheese (about 1/2 cup or 100 g; not too firm), a handful of Fresh Flat Leaf Parsley and a bunch (4-6) whole Scallions (Green Onions). Buzz in the processor until you have a nice even, but still slightly lumpy, mixture. Taste and add Salt and Pepper generously, to taste. Do not forget the Nutmeg! Two or three healthy pinches of Nutmeg will elevate your Spanakopita from great to fantastic! Nutmeg is a BFB (Best Flavour Buddy) of any green leafy veggie you are going to cook. Especially Spinach!
Finally, add two whole eggs and buzz to incorporate fully. Some lumps should still remain. You want your filling to have 'character'!
Melt half a pound of Butter in the microwave or on the stove top on Med-Low.
Put it all together!
In the bottom of the casserole, which you have brushed generously with melted butter, gently place one sheet of Phylo. It should just cover the bottom of the dish. Butter this sheet with a soft pastry brush and then place two more sheets on top of it, this time, though orient the sheets side to side, not lengthwise and place so that they run up the sides of the casserole over the lip and overlap in the middle. repeat the single sheet layer followed by the double sheet layer and top with another single sheet layer. Always brush each new later o Phylo with butter.
Then, add the filling and use a spatula to flatten it out into a single, thick, even layer. now, tuck the ends of the pastry from the bottom layers that is still showing down inside the edges of the filling all around On top of the filling go ahead with single or double-layer pastry layers according to the size of your casserole. Each pastry layer should completely cover the top if the casserole.
Lay on at least five layers on the top of the casserole. More if you like. Or keep going until you run out of melted Butter!
Note: Always keep the Phylo pastry sheets cool and covered with a moist tea towel to ensure they don't dry out and become brittle!
Cut into squares or triangles before baking. The Pastry will be too crispy and brittle afterwards!
Now bake in a 350 F for 45 minutes or an hour – until the pastry begins to crinkle and turns golden brown.
Remove from oven and let rest for 20-25 minutes before serving to allow the filling to set and stabilize. That way, you'll get really nice, uniform attractive portions when you go in with the spatula. Don't worry. The Spanakopita will still be piping hot!
And there you have it! You can freeze the casserole whole or bag up single servings or meal-sized portions. Freeze before baking! You'll find that baking this dish from frozeb takes an additional 15 or 20 minutes.
Hint: Don't microwave from frozen. The filling will get runny and the pastry will get soggy!
Now, go Greek and give a resounding cheer for Spanakopita!
~ Maggie J.