Chickpeas are just about universal in their appeal and they're loved nowhere more than in the Middle East! And the yummy treat made from them most often there is revered as a staple of Eastern Mediterranean cuisine. I speak of nothing less than the simple, noble Hummus…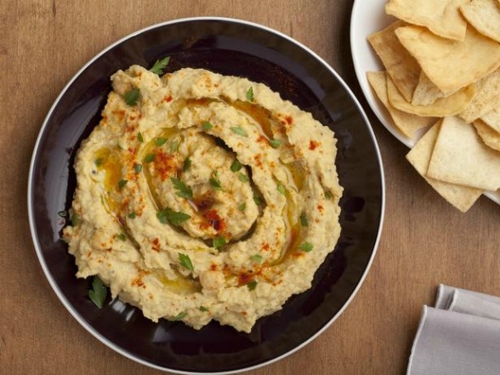 More or less traditional presentation of a beautiful Hummus, on a large, flat plate
with Pita wedges on the side. Garnished with Paprika and Chopped Parsley.
Hummus (sometimes spelled: 'Hommus') is as well know and loved outside the Middle East, today, as its favourite cousin, Tabbouleh Salad.
Like Tabbouleh, it's a simple peasant dish and variations abound, depending on who taught your Middle Eastern culinary tutor to cook. It's like Indian Masalas and North African Ras al Hanout; spice blends for which everyone has his or her own favourite.
Hummus, however, has some rules for you to follow, not the least of which is cook your Chick Peas (also known as Garbanzo Beans) well, so they will purée smoothly. Add Tahini (Sesame Seed Paste) or Toasted Sesame Seeds with a little extra Olive Oil, salt to taste and lots of garlic. Give it a good squirt of fresh lemon juice.
A word on Chick Peas: Go ahead and use the canned, pre-cooked ones. They're definitely faster – especially if you decide to make Hummus on the spur of the moment – and they're just as good for this dish as so-called 'fresh' (dried) ones that take pre-soaking and boiling. As I've said before, canned or frozen can be just as good or even better than 'fresh'!
Purée the heck out of it – letting the food processor run for several minutes, until the mixture is totally smooth – then scrape out into a pretty bowl – or, to be traditional, spread evenly in a thinnish later on a large flat plate – and garnish with a good pinch of Paprika and some freshly-chopped Mediterranean Flat Leaf Parsley.
Once again… Experiment with various flavours and seasonings. Some folks add Black Pepper. others swear by Ground Cumin and/or Paprika right in the Hummus, itself. Others say, add more Sesame Oil. You be the judge!
Dip pieces of fresh, warm Pita Bread in it, scooping up generous amounts of Hummus and enjoy. Fast, simple and nutritious. High in unsaturated fats!
Serve along side Tabbouleh for a real vegetarian feat! You'll have fully-balanced protein in that combo, with the Bulger Wheat in the salad and the Chick Peas in the Humus!
~ Maggie J.