The University of California at Berkeley is offering students a (US)$10,000 prize for coming up with the best new meatless food product. The idea is to focus food-builders of the future on new, more efficient ways to feed a global population that is estimated to reach 9.6 billion by 2050…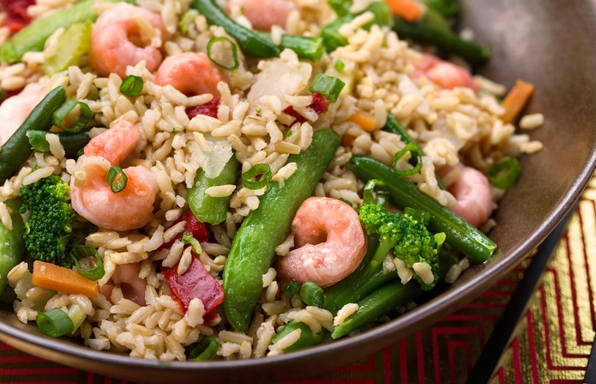 Believe it or not, these are New World Foods' incredibly lifelike manufactured 'Shrimp',
looking right at home in a classic Asian Stir Fry.
As study after study has shown, it's more efficient and less costly to use plant material directly in making food products than it is to run that plant matter through Cows or Pigs or Chickens so we can eat their meat. There's also a direct benefit to our Fresh Water supplies. And growing plant based foods uses much less energy. And there are no hormones, steroids or antibiotics involved.
What more could you ask for?
Something that looks good and tastes good and has the kind of satisfying mouth feel you can currently get only from real Meat.
That's the goal of the Good Food Institute (GFI), an organization whose web page is headlined with a bold statement:
Imagine a food system where the most affordable and delicious products
are also good for our bodies and the planet.
That's a tall order, but that's what the GFI is set up to do. That made them the perfect partner for the UC Berkeley challenge.
The idea has already started trending
There are already a few industry initiatives underway in this direction.
Impossible Foods of New York City and San Francisco made headlines recently with its amazingly Beef-like Veggie Burgers.
Crossroad Kitchen in LA got special mention from the GFI for its Veggie-based 'meat' dishes.
And New Wave Foods of Cali's Silicon Valley has wowed the resto world with it's incredibly lifelike sustainable 'Shrimp' and other seafood products, reprocessing fish species that are currently considered 'trash' by commercial fishing operators.
What will the Berkeley kids come up with?
I can't wait to see!
~ Maggie J.