I've predicting a string of major consolidations and mergers in the Fast Food Sphere for several years, now, and, by rights, it should have started by now. Well, it has. And it appears that one of my predicted scenarios is playing out. Which of the players has been sucked up by the merger?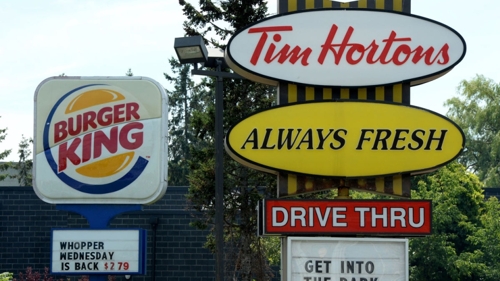 Remember when Tim Horton's and Burger King merged under the umbrella of then
little-known Fast Food holding company Restaurant Brands International?
I said it was a harbinger of things to come in the industry…
In trouble for some weeks, now, and having streamlined its holdings even before the COVID-10 pandemic arrived, SDunkin Donuts has announced it will go private and merge with Inspire Brands, one of no more than half a dozen Fast Food holding company behemoths that's been quietly sucking up Fast Food brands over the past two or three years, will buy Dunkin's for a cool $11.3 billion – a deal that's been classified as one of the restaurant industry's biggest transactions ever.
Are you sure about that figure?
How, you might be asking, can Dunkin's be worth $11.3 billion? Dunkin's already owns a selection of other Fast Food Brands including Baskin Robbins. Inspire already owns Arby's, Buffalo Wild Wings, Jimmy John's, Sonic, and additional familiar – if not top-shelf – brands. Market observers say it's a nice portfolio: none of Inspire's holdings is in diret competition with it's brothers or sisters.
Other major major conglomerations
We've heard a lot of noise from other holding companies such as upstart Restaurant Brands International, which owns Tim Horton's and Burger King, among other lesser holdings. And, thanks in part to pressure being placed on the Fast Food industry by the pandemic, I believe more mergers are in the works. Who will be among the prey and who will the predators be? It's hard to say who will be swallowed up next, but you can count on The Coca Cola Company, Pepsico, McDonald's and Yum! Brands to be in the market.
My predictions…
Months ago – as far back as 2017 – I predicted that a major consolidation would strike during the 2020s cutting the number of Fast Food Brands (particularly Burger joints) dramatically, and concentrating ownership under a few powerful holding companies. At that time, Fast Food revenues were plateauing, and growth in the industry, even among the biggest players, was flat.
The unofficial rule of thumb of modern corporate economics has always been, 'if you're not growing, you're dying'. Seems Yoda got it right when he told Luke Skywalker, referring to the Force: "Do or not do. There is no try." But now, it seems the rule is, 'Merge or not merge. There is no stand alone." In other words: Merge or Die."
And make no mistake there will be major, meaningful attrition among regional and one-off brands. But the best of those, as long as they remain beloved by their local audiences and don't change their recipes service models or family ownerships, will survive just fine.
Who's next?
Who Knows? We'll toy posted. And keep your ear to the ground for word of restructurings of the brand trees controlled by the huge holding companies as time goes on. The only purpose holding companies have for existing is to maximize profits for their shareholders. Regardless of how much fans may love a certain brand or menu item. Witness the recent kill-off of the fan favourite Tex Mex Pizza by Taco Bell, regardless of how many fans loved it, and the force of backlash that the corporate level has had to weather over the decision. It's a ruthless business at the top…
~ Maggie J.