Anybody who mounts a mammoth cookout for whole extended family or summer holiday weekend feasts will tell you there are usually at least a few Hamburger Patties left over at the end of the meal. What do you do with them? Turns out there are lots of delicious ways to recycle leftover Burgers!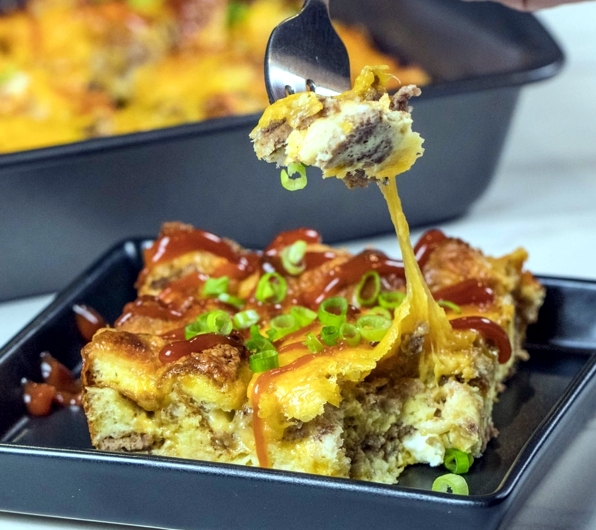 The Recycled Burger Breakfast Bake: Even uses the Buns and leftover Toppings!
A cousin of mine has three kids who have, altogether, about nine kids of their own, and she likes to have her whole brood over on Canada Day – and every summer long weekend. Her husband fires up the grill and they toss on a big bulk box of pre-formed Burger Patties they get from their favourite frozen food purveyor. And he just keeps flipping until they're all cooked. Every time I talk to her, she asks me if I have any ideas about how to use up the leftovers in 'creative' ways that won't immediately remind everyone of the Hamburgers whence they came.
Just think 'Ground Beef'…
…And let the ideas flow!
Quick Tex Mex treats: Crumble or chunk-up pre-cooked Patties for use in quick Tacos, Burritos or Chili. Or, for the ultimate in ease and speed, just toss on top of a tray of Corn Chips to create a base for Nachos. You can even recycle leftover Burger toppings such as Sweet or Hot Peppers, Onions, Tomatoes and Cheese in these dishes.
Italian in a minute: Crumble a couple of leftover Patties into a jar of ready-made Marinara – store-bought or your own from the freezer – for a quick Meat Sauce. Serve over Pasta of your choice, or on leftover Burger Buns for almost instant Sloppy Joes. Chunk-up two or three leftover Patties and toss them on pre-made Flatbreads of your choice to make quick Pizzas. Again, you can use up leftover toppings to make any of these dishes more interesting. If you have the time, you can make up a big pot of Minestrone Soup using leftover Patty chunks in place of the usual mini Meatballs.
Make that Breakfast Bake a brunch, lunch or supper one-dish Main. I've even got a really quick, easy recipe that's tailored to use 'leftover' Hamburgers, Buns and all!
Chunk-up Patties i n large (1 in. / 2.5 cm) pieces and make Meatball Subs on leftover Hamburger Buns or regular Sub Rolls. Pour your go-to Marinara on top and garnish with lots of Mozzarella, White Cheddar or Provolone Cheese before microwaving or broiling until the Cheese melts.
I've never tried this one, but I thought it sounded really good when I read about it online: Use whole leftover Burger Patties as Mini Salisbury Steaks. Throw together a quick Gravy using Beef Stock from a box (you should always have a box in the fridge for just such an 'opportunity'), a little Flour or Cornstarch Slurry, a shot or two of Worcester Sauce, some sliced Mushrooms and some fresh-ground Salt and Pepper to taste. You can even melt a slice of your favourite Cheese on top of each Patty as you reheat them in the microwave or the oven.
Crumbled leftover Burger Patties can be substituted directly into any recipe for Stuffed Peppers, Eggplants or Zucchini Boats.
Quick Samosas are an easy option. Crumble one or two leftover Patties and mix with leftover (or freshly diced) Onions, Indian Spices and a handful of Frozen Green Peas. Wrap in large Wonton Wrappers and bake until heated through.
…And I'm sure you can come up with lots of other ways to use leftover Burger Patties, if you put your mind to it. Go ahead. Let your imagination run wild!
~ Maggie J.