Okay, now. Before we get into the intricacies of making a genuine Caesar Salad, let's clarify the origins of this perennial favourite.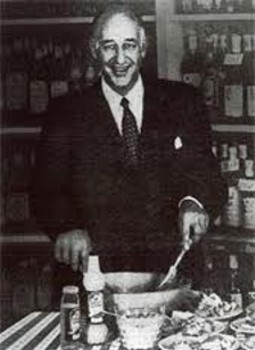 It is not an ancient Italian classic, reputed by some to have been Emperor Julius' last meal before leaving for work one March 15 a couple of thousand years ago, only to be stabbed in the back, literally and metaphorically, by his best friend as well as a gang of his worst enemies. But the real story behind the legendary salad is almost as romantic.
Caesar Salad is named after its inventor, Chef Caesar Cardini (1896-1956) (left), an Italian immigrant to the U.S. who settled in San Diego, CA, but was working just across the border, in Tijuana, Mexico, at the time. He was working in Mexico to avoid the U.S. Prohibition law (1920-1933) which would have forced him to cook without wine at home.
The mother of invention
Food fans say Cardini's daughter, Rosa, (1928-2003) was always eager to tell anyone who asked the story of how her dad invented the Caesar, on July 4, 1924, when a rush of U.S. tourists in Tijuana for the holiday just about ate his little restaurant out of supplies. He bravely threw together what he had left, applied some classic culinary techniques and outstanding judgement, and created a classic.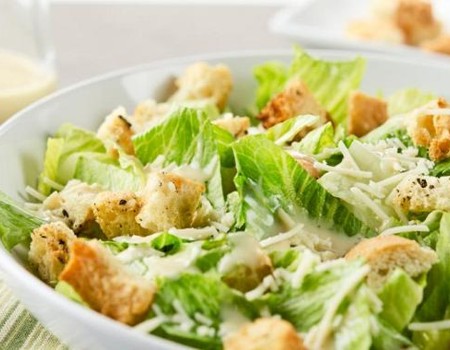 Rosa also insisted that it was her dad who invented the classic table-side preparation ritual for the Caesar, a custom that remains part of the repertoire at many fine dining establishments to this day.
The fundamentals
A classic Caesar always starts with Romain (Cos) lettuce. Cardini is reported, by some, to have originally served the leaves whole, with the tough stems removed, to be dipped in the dressing and eaten with the fingers.
The Crouton issue divides culinary historians to this day. Some say toasted Bread Cubes or small wafers of Toasted Bread were offered on top of or on the side of the original Caesar. Others say Croutons came later. I'd like to think that Cardini just sliced a loaf of French or Italian Baguette style bread he had lying around on his counter top into nice Crostini, brushed them with Olive Oil and Garlic and stuck them under the broiler for a few minutes.
The majority of food-aeologists, however, do agree that Cardini insisted that Anchovies had no place in his Caesar Salad. He did use Worcestershire Sauce, though. And, as we know, Worcestershire is based on … Anchovies. Cardini wisely agreed with me that Worcestershire plus Anchovies was overkill in the otherwise light, delicate Caesar Dressing he whipped up that first night.
The Modern Caesar
We now generally use the Mayonnaise technique to whip up Egg Yolks, Olive Oil, Lemon Juice, Parmesan Cheese, Crushed Garlic, a dash of Worcestershire, Salt and Black Pepper into the creamy delight we call Caesar Dressing. Some say that you should add Coddled Eggs to thicken the sauce, rather than Egg Yolks. Others say you must garnish a Caesar with Bacon Bits, and still others say you must not.
I especially like the idea that you should use some Bacon Fat in the dressing to achieve what I consider the iconic Caesar flavour profile.
Some Caesar deconstructionists insist that diced tomatoes should be present, to honour the salad's Mexican and Italian roots. Others insist that the dressing should be a bright yellow colour, to be achieved by adding Mustard or Turmeric. Fie upon such blasphemy, I say! (Am I getting a little too worked up about a simple salad? Perhaps…)
The Great Egg Yolk Debate
There has been, in recent decades, a great and enduring debate over whether you should make Caesar Dressing with raw Egg Yolks, or opt for some pale imitation of the Classic. The reason behind shunning the Yolk is that many folks, both in the foodservice industry and at home, have mishandled the Eggs in this recipe, allowing the Salmonella bacteria that natually occur on most egg shells to mix with the Yolk and Albumen. Left at room temperature for more than  about 45 minutes, Salmonella will go crazy multiplying in this nutritious paradise and serious illness will result.
So… Many municipal and regional Health Departments have banned genuine Caesar Dressing (and other Raw Egg Yolk-based sauces) from the menus of Restaurants and institutions which serve food to the public. That's like using a sledge hammer to kill a bee, though, according to most foodservice professionals.
The truth is, if you make your Caesar Dressing one Yolk at a time (or in a small batch using one Yolk per person you intend to serve at your dinner table), and serve it immediately, you – and your guests – will be just fine. Just don't make the Dressing too far ahead or let it sit out for than half an hour. Raw Egg Yolk sauces are a definite no-no on buffets.
Making a meal of it?
We now come to the contentious matter of whether a Caesar with Sautéed Chicken, Seafood or other protein adornments can truly be called a Caesar. There are obviously lots of people out there who think so. I think not. I'll have my (Classic) Caesar on the side.
And where did those Hard Boiled Egg wedges I keep seeing come from?
Beware the Pretenders…
Beware the Pretenders, the bottles of "Caesar" dressings lined up in their legions on the supermarket shelf, daring you to take the great Cardini's name in vain! Shame on those people who market over-thickened, over-tart, over-garlicky dressings adulterated with stuff like Hot Peppers, Cranberries, Honey, Mustard or Celery Seed! Just say "NO!" to anything calling itself "Caesar Ranch" or "Yoghurt Caesar"!
Be proud that you know what a real Caesar Salad is, and what it should taste like!
~ Maggie J.