I'm sure you've seen updates in the mainstream media about the McDonald's Canada temporary foreign workers controversy. In fact, the issue of foreign workers displacing Canadians has spilled over to other fast food and sit-down restaurants, from coast to coast. But there's a new twist in the story…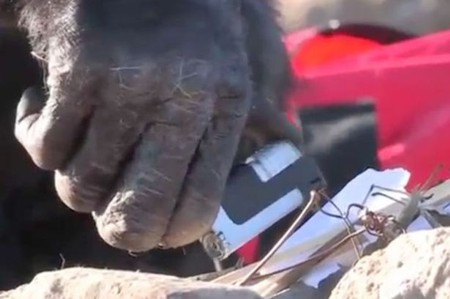 Kanzi the Bonobo gets ready to fire up his backyard grill…
Seems some brainy primates (other than humans, that is) have the ability to perform simple, repetitive food preparation tasks without getting bored. That's exactly the kind of worker a fast food manager wants on his shift.
Only one or two hitches: These exceptionally sharp chimps may take a lot more training than regular foreign workers and getting them into the country in the fist place will probably be a lot harder.
Nevertheless…
I draw your attention to the case in point: Kanzi, a pygmy Chimp – or Bonobo, officially – at the the Great Ape Trust (GAT) in Des Moines, Iowa, not only builds his own fire; he gathers his own fire wood and lights it himself! Then, he strings marshmallows on a stick and toasts them expertly.
And that's just the beginning… Or should I say Dessert?
Kanzi apparently has his own little grill that he built himself, after watching GAT staff make one. He can fire it up all on his own and he loves to cook burgers, flipping them in his own frying pan. Yes, they gave him matches, a lighter a spatula and a frying pan.
GAT Director Dr. Sue Savage-Rumbaugh says Kanzi's favourite movie is Quest for Fire, and he's watched it about a hundred times. Those pre-verbal cave men have nothing on him, what with his modern advantages…
But that's not all…
Savage-Rumbaugh says the 31-year-old Kanzi is now teaching his son how to make fire and cook. And that, she says, is a clear indication that 'Man' may not have tamed fire first!
Think about that…
~ Maggie J.