Here's a nice, brightly-flavoured change from good old Cranberry Sauce. This quick, easy condiment is a simple combination of complementary flavours that come together in a delightful and unexpected way! At our house, we have both Sauce and Relish at every Turkey or Ham feast…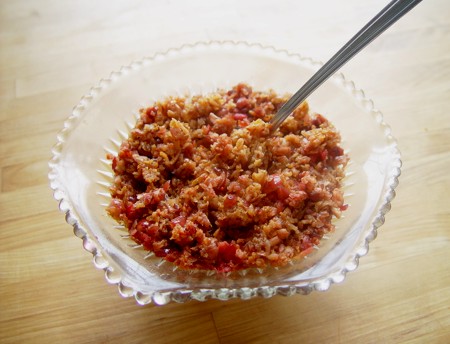 Maggie's Tangy Cranberry Orange Relish. Make a day ahead and refrigerate
to ensure best flavour!
This could hardly be any easier!
Throw the following into a food processor or blender:
1 cup (250 ml) ripe Fresh Cranberries (thoroughly washed)
Grated Zest of one medium Orange
Pulp and Juice of one medium Orange
1 tsp. (5 ml) Brown Sugar
1/2 tsp. (3 ml) Ground Cinnamon
1/2 tsp. (3 ml) Ground Cloves
1 tbsp. (15 ml) Grand Marnier Liqueur (or any other Orange and Brandy tipple)
Whiz in blender or food processor until Cranberries are reduced to a fine chopped consistency and other ingredients are evenly blended throughout. Place in a covered container, mix well with a fork and let sit refrigerated overnight so flavours can mingle and mature. Stir before serving to incorporate fruit juices and sugar that have settled to bottom of dish.
Keeps refrigerated under tight cover for at least one week. Make your Christmas and New Year's relish all at the same time!
Enjoy!
~ Maggie J.