We're heavy on the burger-universe mains again this week. Not to mention the Mother's Day specials, which weigh in heavily on the treats and sweets menus. Of special significance: Goldfish are bringing back Old Bay flavour by popular demand…
Shake Shack's new plant-based menu: Includes a Veggie
Burger, Chocolate Shake and Chocolate frozen treat.
Wendy's goes big for Hamburger Month
May is Hamburger Month – if you hadn't guessed – and to celebrate Wendy's is offering a number of specials. For instance: All month, you can claim a Jr. Cheeseburger (see photo, top of page) for just a cent – when you order anything from the regular menu via the Wendy's app. And they mean anything: even the purchase of a small drink qualifies you. And on top of that, there are additional specials including a BOGO hamburger deal in which you can get a second regular burger web you order one at regular price through the app.
Shake Shack débuts plant-based menu items
The Shack is offering a new veggie-patty based burger to anchor a new plant-based menu array including a beverage and a dessert. The Veggie Shack patty is composed of mushrooms, sweet potatoes, carrots, farro and quinoa. And it comes topped with American (Processed) cheese, crispy onions, pickles, and ShackSauce. The coordinated shake and frozen treat are both chocolate.
Burger King explores the Spiderverse
BK celebrates the imminent release of the new Spider-Man: Across the Spider-Verse movie with a new Spider-Verse Whopper as well as a Spider-Verse Sundae starting this Monday, May 15.
The Spider-Verse Whopper is basically a standard on a red bun, topped with black sesame seeds and Swiss cheese. The Spider-Verse Sundae consists of a cup of vanilla soft serve topped with black and red chocolate popping candies.
Jack In The Box reprises Mozz Sticks, Mini Munchies
They're all longtime faves, breaded and deep fried ready for dipping in the Jack's famous Marinara Sauce. Get Mozz Sticks in orders of 4 or as part of the Mini Munchies Variety Pack which includes two mozzarella sticks, three onion rings, and curly fries. Available for a limited time only.
Lays stacks sandwich-inspired flavours
Sandwich lovers who can't wait until lunch to feed their craving can now stuff a bag of new sandwich-flavoured Lay's potato chips pretty much anywhere, anytime.
Choose from BLT, Wavy Cuban and Buffalo Chicken. They're available for a limited time at the usual outlets.
Catch some Old Bay-seasoned Goldfish!
They're back! Goldfish crackers seasoned with Old Bay spices, described on social media by one fan as, "The greatest snack to ever grace my tongue." Available nationwide with limited availability on the McCormick website. Fans demanded they come back after a tremendously successful initial release.
Velveeta shouts out Choc-Cheese Truffles
For no specific, stated reason, Kraft Velveeta Processed Cheese is offering limited-availability Velveeta TruffVels. They're Chocolate Truffles apparently coated with Yellow Chocolate shells.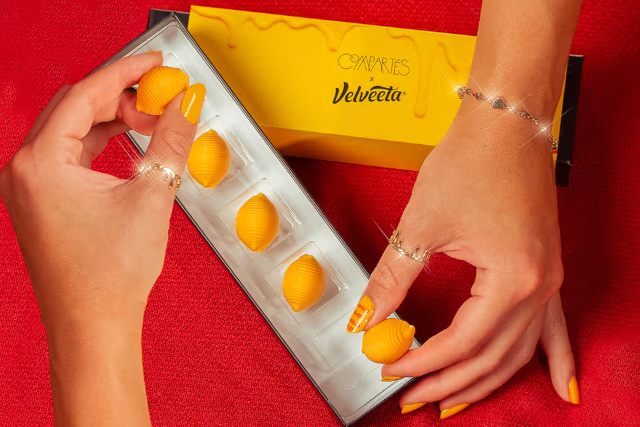 Compartés Chocolatier of Los Angeles came up with the treATs, meant to look like large Shell pasta smothered in Velveeta sauce. The luxy bites are self-described as, "unapologetic, big, bold, supremely creamy and relentlessly original." Get em' while they last at Compartés.com, priced at $24.95 for a five-pack.
Krispy Kreme offers Mother's Day Minis
Three styles: Hearts, Flowers, Cookies and Kreme, and good old Original Glazed can be ordered only in boxes of 16, with four of each. Details in the KK app, the KK website or at participating locations near you. Orders placed on May 12th or 13th will receive free delivery.
Keurig adds Iced Coffee
Keurig now has a machine that makes iced coffee instantly and totally hands off. The K-Iced Coffee Maker brews over ice by automatically adjusting the brew temperature —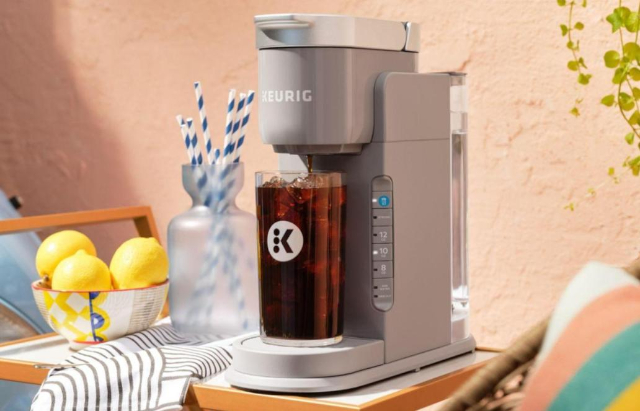 – starting hotter to help extract full flavor, then cooling down for less ice melt near the end of the cycle. Uses any regular Keurig pod and your ice. Fills any of three cup sizes – 8, 10, or 12 oz.
And that's the skinny…
… On the best of what's going to be making some of us a little fatter now through summer. See you back here in 7 for the next edition of Fast Food Week!
~ Maggie J.