The majority of listings concern new and returning burgers and combos that usually make an appearance this time of year. On top of it all, Panda Express premieres Wagyu dumplings. And we learn of a new Italo-Mexican foldover sandwich called the Papadia…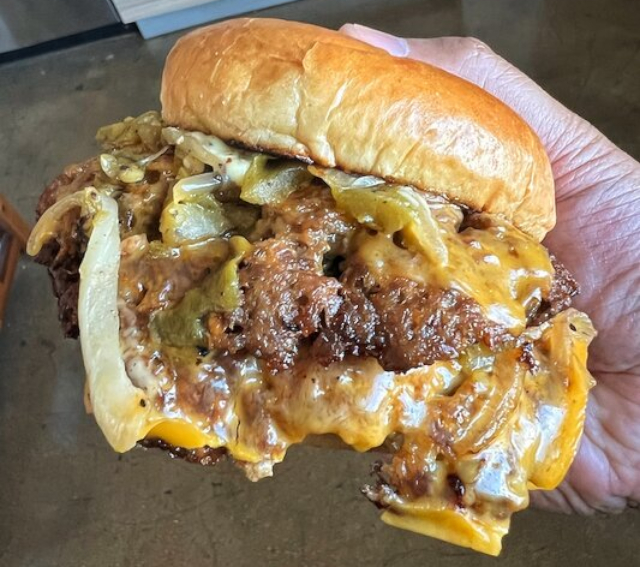 One of the not-so-new, 'pleasant surprise', smashburgers from Buffalo Wild Wings…
Buffalo Wild Wings has Smashburgers
Who knew? Not me. Nor my source for this kind of story on the food newswires, apparently. And I suspect we're not the only ones. Choose from: an All-American Cheeseburger; a Cheese Curd Bacon Burger; a Smoked Brisket Burger; a Southwestern Black Bean Burger; or a Bacon Smashed Hatch Chile Burger.As one food blogger comments: "A pleasant surprise coming from a joint known for chicken wings."
All American Steakhouse Burgers back at Jack In The Box
They're premium Ribeye steak burgers in two variations: Regular and Bacon. Both start with a ground Ribeye beef patty, topped with cheddar cheese, smoky aioli, red onion, lettuce and tomato on a toasted potato bun. (See photo, top of page.) This is the third time back for the Steakhouse Ribeye burgers. The fist time they appeared, in 2017, they came in with All-American and Havarti & Grilled Onion varieties. The next time, deep in the COVID Era, they re-appeared alongside a Blue Cheese & Bacon version.
Panda Express tests Wagyu
It's actually 100 percent Wagyu beef, not a blend or some other 'shade' of Wagyu. That alone makes it special. But it also comes with Fly By Jing's sweet and spicy Zhong sauce, a fast-rising star on the American Asian food scene…
That a chain the size of Panda would commit to providing it across the chain is another. Anyway, it's just a test for now, and its being presented in Spicy Wagyu Beef Dumplings at one location in Pasadena, Cali. It's also the first time the Bear has offered Wagyu, If you're a fan and you live in the Los Angeles area, go now, order it and demand they put it on the permanent menu.
Papa John's, Pepsi partner on new Dorito Cool Ranch Papadia
A Cool Ranch WHAT? Papdia. It's an Italian word that describes a folded Pizza creation, which is in turn described as the second cousin of a Mexican Empanada. Or an Italian Calzone that's not sealed around the half-moon edge. Whatever it is. Papa's people describe it as, "Alfredo sauce, cheese, Italian sausage, salami and banana peppers. Served with original pizza dipping sauce." On a crispy Pizza crust, of course.Available now through through July 23. You may remember, an array of Papdias first appeared in spring 2020 – at the tumultuous first explosion of the COVID crisis. And got lost in the hubbub.
Pecan Chicken Salad Sandwich back at Arby's…
It's baaaaaack! and not a moment too soon, after. When it débuted a few years back I asked, what took them so long? It's a natural match. Then I realized nobody else was doing it. So, maybe, not such an obvious pairing after all…
Anyway, it's back where it started from, looking just like it always has: "a mixture of diced chicken, red grapes, apples, celery, pecans, and mayo served with a leaf of crispy green lettuce on toasted honey wheat bread." Available now, for a limited time, at participating Arby's locations, while supplies last.
… Floats Six Boneless Wings for $1 deal
Wow! Hard to pass this one up, even if you've already ordered one of Arby's big, hunger-quenching sandwiches. The catch is you have to order a Burger – any burger – to qualify. For eat-in or to-go, when ordering online, at participating locations.
Long John Silver offers Chicken Plank Basket…
Never heard of a 'Chicken Plank' before. But it looks good in the official family photos. Described as: "two pieces of batter-dipped and deep-fried white meat chicken tender strips, a side of your choice, and two hushpuppies."
A pretty good deal, offering you an estimated 1/3 off the regular price for a similar combo, components purchased separately at regular price. For a limited time only.
… Adds Cheesecake
What's more, it's straight from The  Cheesecake Factory, in two classic flavours: Classic Cheesecake and Triple Chocolate. LJS's says the confections are meant to be permanent menu additions. They should have filtered down to all locations across the chain by now…
Merch Alert! Panera brings back BAGuette Bag
The bag sold-out when it débuted this past February. Such was the clamour among disappointed fans that it's coming back this coming Monday. That's an advance access promo for MyPanera members. Just sign up for the new rewards program before the 1st to qualify. The MyPanera store and the bag both go public a week later, on May 8. If you want to risk the bag selling out again before you can grab one.
And that's the skinny…
… on what's going to be making some of us a little fatter over the coming summer – the height of the Burgers al fresco season. See you back here in 7 for the next edition of fast Food Week!
~ Maggie J.