Tally Ho! It's been a horse race in the Fast Food sphere this week! We've seen Carnitas, Tex-Mex Ramen, Chili Cheese Wraps, Candied Bacon, Stuffed Crazy Bread, Maple Sriracha Wing Sauce, Turkey Day Fixin's Ice Cream, and more!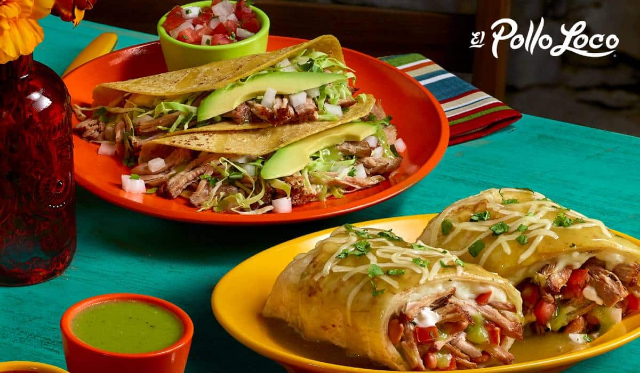 El Pollo Loco reprises Carnitas
For folks unfamiliar with the more exotic delights of Mexican cuisine, Carnitas as savoury pork that been simmered til fork tender then popped under the broiler to create a pulled product that's crispy on the outside and tender-juicy on the inside. It'll be available through the year-end Holidays in a number of formats: Carnitas Tacos, Carnitas Quesadillas, Carnitas Burritos, Carnitas Nachos, and Carnitas Tostadas.
Del Taco sneaks Ramen onto the menu
The Taco resto is actually adding three new Birria-oriented items. choose from: Two Shredded Beef Birria Tacos, a Shredded Beef Birria Quesadilla, and Shredded Beef Birria Ramen. Del Taco is the first major Fast Food chain in the US to offer Ramen. But the market is eon s behind Japan, where there's a Ramen shop on every corner. Given the unparalleloed mass craving for Nissin Ramen and cup noodles, I wonder: Will Ramen restos eventually become as popular in North America?
Dairy Queen dangles '2-FOR-$5' Cheeseburgers
Like the carrot before the horse, DQ is dangling a sweet twofer deal in front of Cheeseburger fans. For a limited time, at participaring locatiuons, you can gab two DQ Cheeseburgers for just $5.
And if you're a really big eater, get two Double Cheeseburgers for just $7. More likely, you'll take advantage of these deals to share with someone you love. Or at least deem worthy.
Checkers and Rally's début Steakhouse Double Burger
The burger tag-team revives its 'Steakhouse' name with a new everything burger. The Steakhouse Double starts with 2 large beef patties and 2 bacon strips. There's Swiss Cheese on top of and between the patties. And the whole thing is topped with dizzying array of: grilled red onions, crispy-fried onions, pickles, mayo and A.1. Sauce. It's here for the Holidays, at least.
SONIC brings back Chili Cheese Jr. Wrap
It's just $0.99, and it's been a fave of hand-to-mouth, on-the-go diners since it first appeared. Devotés will know this item is simply a classic Frito Pie rolled in a flour tortilla.
Its crunchy chili texture is unique. All Frito Pies start with chili, shredded Cheddar and Fritos. That's what you get with the Chili Cheese Jr. And that's really all you need.
Hardee's sizzles Candied Bacon
Hardee's is rolling out Candied Bacon. It's simply crispy fried bacon dipped in brown sugar caramel – with a sprinkle of black pepper. You can get it 3 ways: on the Candied Bacon Breakfast Biscuit and the Candied Bacon Frisco Burger, and standalone in the Candied Bacon Snack Pack.
Wendy's has FREE Chicken Nuggets!
At participating locations, with any purchase through the app, through the end of this year. The offer includes both original and spicy Nuggets.
The catch is, the deal can only be redeemed on Wednesdays. But waiting until Wednesday is a small price to pay for a FREE 6-piece Chicken Nugget order!
Little Caesar's brings back Stuffed Crazy Bread
LC's is bringing back it's popular Stuffed Crazy Bread 'fingers' now through November 29. Available in 3- and 8-piece orders with Crazy (Marinara) Sauce for dipping. The Stuffed Crazy Bread release comes in a collab with the Call of Duty Modern Warfare III video game. Any purchase of $3 or more at Little Casear's, now through December 31, will qualify you for 2 hours of online playing time.
Heinz celebrates National Pickle Day
First, there was the Pickle. Then came Pickle Relish. Following on that came the legend that moms-to-be craved Pickles and ice cream. But in the past decade, Pickle Fandom has exploded, with everything from PB & Pickle sammys to Pickle Pizza.
And now, to celebrate National Pickle Day November 14, Heinz is launching new Pickle Flavoured Ketchup. TikTok fans say it's time. Recent Pickle-and-whatever combo posts have recorded more than 14.8 million views.
Wing Stop does Maple Sriracha
What were we just saying yesterday, about weird food combos that actually work? Onward, into the Sweet-Hot arena! Wing Stop – already famous for what may be the longest sauce menu in the world – is adding Maple Sriracha. It's available for a limited time on all the major entrées: Chicken Sandwiches, Bone-in or Boneless wings, and Tenders.
Eminem releases Mom's Spaghetti Pasta Sauce
Not his mom's, but his restaurant, Mom's Spaghetti, in Detroit. The unique recipe is a cornerstone of the resto's concept. And the rapper has indulged in some not-too-subtle self-promotion, featuring it in the lyric of his hot song, Lose Yourself.
The sauce is currently available only from the Mom's website. And it appears there's also a classic 'drum' pack of Mom's Grated Parmesan on the online menu. Sounds like the perfect tomato-based dipping duo, too!
Krispy Kreme reveals 'Flavours of Fall'
The 'Flavours of Fall Collection', as they're calling it, includes three new doughnuts and three returning faves. NEW Caramel Pecan Brownie, NEW Classic Blackberry Crisp, NEW Cinnamon Latte Lover, Spiced Apple Filled, Chocolate Iced with Autumn Sprinkles, Pumpkin Spice Cake. Available now through US Thanksgiving.
Dunkin's Holiday Menu gets exotic
The doughnut chain that reached out is reaching again with two new limited-time menu items. Spice Cookie Coffee sounds like a welcome contrast to the usual Pumpkin Pie Spice 'standard'.
Loaded Hash Browns are topped with cheddar queso and crumbled bacon. Also on the Holiday menu: Cookie Butter Cold Brew, Peppermint Mocha Latté, Toasted White Choco0ate Latté, and a Triple Chocolate Muffin.
Reese's Adds Caramel to PB Cups
Some might call it a travesty – to fiddle with the perfection of the original Peanut Butter Cup. But many more may welcome the addition of a layer of gooey buttery goodness to the bottom of the cup. "Next to peanut butter, caramel is the most requested combination with chocolate. And while Reese's Peanut Butter Cups are already perfect, ask, and you shall receive," said Emily Stover, Reese's senior associate brand manager.
Baskin Robbins unveils Turkey Day Fixin's
If that leaves you a little confused, that's understandable. It's a new Ice Cream flavour with just about a whole Turkey Dinner swirled in.
You get a taste of cornbread, cranberry sauce, sweet potatoes and autumn spices. It's the November Flavour of the Month.
And that's the skinny…
… On the best of the best Holiday season treats and deals that will be making us al a little more thankful and jolly over the coming days and weeks. See you back here in 7 for the next gift-wrapped edition of Fast Food Week!
~ Maggie J.