A quiet week on the Fast Food Front, volume-wise, but studded with star-quality deals and reveals. Domino's breaks new promo ground with its 'Emergency Pizza'. Burger King goes 50-50 on Fries and Rings. And Kirspy Kreme does Hallowe'en with Scooby Do…
Domino's offers 'Emergency Pizza'
The world's most publicity-loving Pizza joint, Domino's, is offering something new. Domino's Rewards members can a coupon for a free medium two-topping 'Emergency Pizza' after placing an online order of $7.99 or more through February 11, 2024. The coupon is good for 30 days following the qualifying order. Another enticement to use the Domino's online ordering system?
Jimmy John's does BBQ Ranch Chicken Crunch
JJ's is now offering a sumptuous-looking BBQ Ranch Chicken Crunch. It's built on what looks like a half-sub roll,with house-made BBQ Ranch sauce…
…a blend of Sweet Baby Ray's BBQ sauce and Jimmy John's Kickin' Ranch sauce. Stacks chicken, tortilla strips, cheddar cheese, lettuce, tomato, and mayo.
Jack in the Box Offers 2-for-$6 Breakfast Croissantes
JITB is offering a tantalizing breakfast deal: 2 Breakfast Crossantes for just $6. There's a Sausage version and a Ham version. Each features an over-easy egg and a slice of American (Processed) cheese. Regular prices for the menu items vary according to region, but they pretty much hover around $5 each. So it's a great deal!
Burger King goes 50-50 on Fries, Rings
Something BK fans have been dreaming about for ages… The chain is now offering half-and-half sleeves containing both fries and their famous onion rings.
It's such an obvious move that food bloggers across the net are wondering why it wasn't implemented years ago. Meanwhile BK fans have been ordering 50-50 packs from the 'secret menu' for just as long. Seems BK finally took note!
SONIC whips up Hallowe'en Blasts
The special, limited-edition addition to SONIC's famous Blast menu can be ordered with either Vanilla or Chocolate soft serve. Either way, the Trick or Treat Blast comes with candy and cookie fragments swirled in, and sprinkled on top. Available now through December 31, while supplies last.
Krispy Kreme does Hallowe'en with Scooby Do
KK is offering a special selection of Hallowe'en doughnuts featuring 4 different Scooby-Do holiday designs.
On Hallowe'en (October 31), you can get a free doughnut of your choice. No purchase necessary. Just come in costume!
Novelty Alert! Move over Barbie! Mean Girls Day is coming!
It's January 24, 2024 – the 20th anniversary of the premiere of the movie of the same name. And Coffee Mate is releasing a limited-edition Birthday Cake-flavoured, Pink-tinted creamer to celebrate. But it won't be available until January. And then, we assume, only while supplies last.
Novedlty Alert! New condiment inspired by Taylor Swift
It's a new blend from Heinz melding Ketchup and Ranch. It's called 'Ketchup & Seemingly Ranch' sauce the stuff stems from a viral Reddit post that showed a photo of Swift eating what the author described as, "…a piece of chicken with ketchup and seemingly ranch!"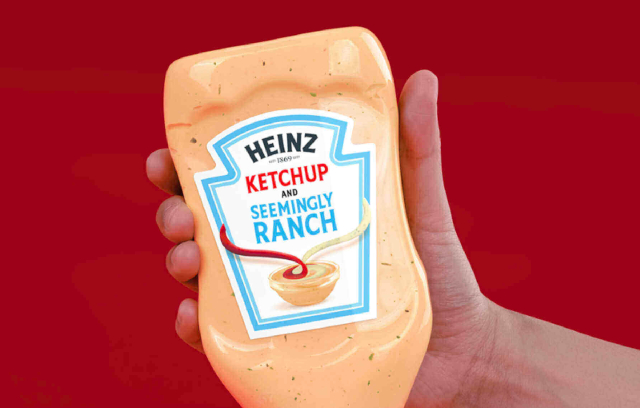 The catch? Only 100 bottles are being made. And food blogger Dylan Pavlik notes: "#Taylor fans will have to fight it out Hunger Games-style to get their hands on the goods."
And that's the skinny…
… On the best and biggest goodies that will be making us all a little fatter through Hallowe'en, at least. See you back here in 7 for the next delicious, crave-worthy edition of Fast Food Week!
~ Maggie J.