Fall specials and limited-time menu reruns are in full swing. In fact returning favourites dominate the Fast Food landscape this week. Amid all the nostalgia KFC intros a new Smash'd Potato Bowl and Panera invades the Roman Empire…
KFC Smashed Potato Bowl: Being tested in Pittsburgh. Destined for greatness?
KFC scoops Smashed Potatoes
The menu item, which is currently on test, is officially called the Smash'd Potato Bowl. It's a possibly interesting combination of Secret Recipe Fries, mashed potatoes with cheese sauce, topped with bacon crumbles and a shredded cheese blend. Fans in the Pittsburgh, Penn. area can get them for a limited time, either à la carte or topped with 5 Nuggets. This one looks as though it should merit elevation to the permanent KFC Bowls menu.
Panera adds Roman Empire menu
Do dishes like Caesar Salad, a Cinnamon Crunch Bagel, a Chipotle Chicken Avocado Melt sandwich, or Fuji Apple Chicken Salad sound good to you?
Then you'll probably enjoy Panera's new Roman Empire menu. It's billed as a response to a silly TikTok trend involving women asking men how often they think about the Roman Empire. Don't ask.
New Sauced and Loaded Chicken Sammy at JITB
Jack In The Box is featuring a new Sauced and Loaded Chicken Sammy, now through November 19. The SLCS is built on a brioche roll that looks a lot like a hot dog bun, using two two crispy-fried white-meat chicken strips, French fries, white cheese sauce, bacon crumbles, ranch dressing , and JITB's signature Good Good Sauce. The sauce is subbed out in favour of Spicy Good Good Sauce for the spicy version, which also features pickled jalapeños.
Eggos teams with Moe's on Eggo Taco
Eggos – the toaster waffle guys – are teaming with Moe's Southwest Grill to celebrate Taco Day, Octo9ber 4. They're offering a new Eggo Taco built on an Eggos shell, and filled with Moe's adobo chicken, bacon, shredded cheese, and chipotle ranch sauce.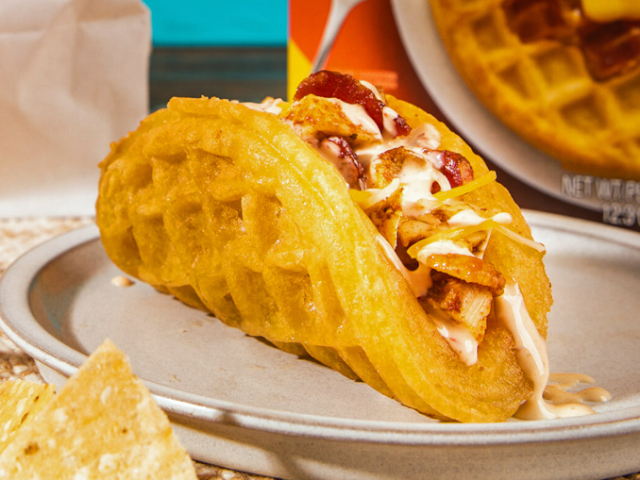 Alas, it's only available for that one day, at participating locations in Atlanta, North Jersey, Long Island, and South Florida, while supplies last.
McDonald's reprises Spicy Nuggets…
Spicy McNuggets are back on the menu again, for a limited time. Fans will remember them fondly – no detailed description required.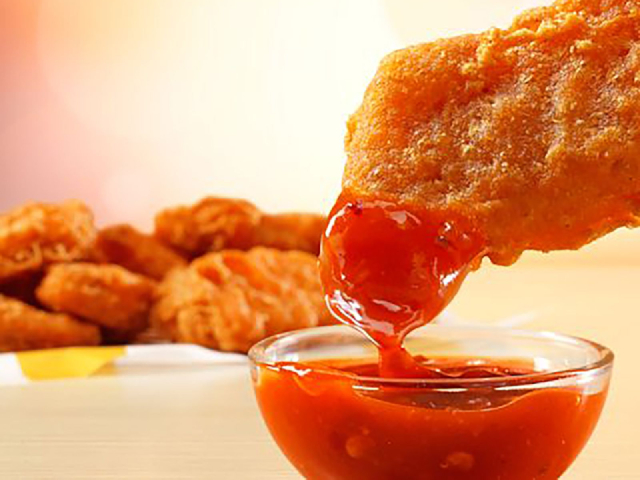 They're available in six-piece, 10-piece, 20-piece, and 40-piece boxes.
… Adds spicy sauces
The two new sauces are Mambo (tomato-based, sweet, spicy, and vinegary), and Sweet & Spicy Jam (a Szechuan peppercorn and cayenne blend). (See photo, top of page.) "We get inspiration for the food our fans love by exploring the incredible tastes and flavors found in communities across the country," said McDonald's Chief Marketing and Customer Experience Officer, Tariq Hassan.
Arby's resurrects $1-$2-$3 Deals
Th guys who 'Have the Meats' have brought back their $1-$2-$3 Deals. They're available only when you order through the app.
Details are posted there. You can claim five discounted Classic items per order.
7-Eleven reveals Fall-Holiday menu
Choose from among the French Toast Breakfast Sandwich, the Pumpkin Muffin, and the Gingerbread Big Cookie. And wash your fave down with a Caramel Macchiato. Now through January 9, at participating 7-Eleven, Speedway and Stripes stores.
Häagen-Dazs brings back Pumpkin Shake
It's a luxe recipe blending Dulce de Leche ice cream with pumpkin puree, topped with whipped cream and a sprinkle of pumpkin pie spices. Available now though November 14.
If that makes your mouth water, be sure you have at least $10 in your jeans before heading over to your local H-D store.
Domino's updates Rewards Program
The new deal offers more frequent rewards and more rewards choices. You now get 10 points for every order of $5 or more rather than the previous 5 points. And there are now three levels for rewards redemption: 20, 40 and 60 points. Top-level 60-point rewards include a medium, two-topping pizza, pasta, an Oven-Baked Sandwich, or a 3-piece order of Chocolate Lava Crunch Cakes.
And that's the skinny…
… On what's going to be making some of us a little fatter on into the year-end holidays. See you back here in 7 for the next high-Calorie edition of Fast Food Week!
~ Maggie J.