Fall is definitely here. The major Fast Food players are trotting out new menu items and returning favourites in droves! Lots of Pumpkin Spice selections. And don't forget to pick up some of Krispy Kreme's famous Apple Fritters while they're here!
JITB Red Hot Angry Monster Tacos: There's nothing hotter than an Angry Monster.
Cali Fast Food minimum wage going to $20 / hour
Already reviled by conservatives as the home and heart of liberal social policies, California could soon become the land of 'professional Fast Food Workers'. Assembly Bill 1228 would increase minimum wage to $20 per hour for workers at restaurants in that have at least 60 locations nationwide. The increase would be phased in through 2029. By then, California Fast Foodies could expect some pretty big increases in menu prices at their fave grab-and-go joints.
Red Hot Angry Monster Tacos!
Jack In The Box wants to light up your mouth with its new Red Hot Angry Monster Tacos! They're similar to the original Monster, except for volcanic red shells and a very angry-looking red sauce drizzled over all. This menu item might have some connection to the coming Hallowe'en season. For a limited time at all JITBs.
Hardee's premieres Nashville Hot Chicken
There are three: a Nashville Hot Hand-Breaded Chicken Sandwich (with pickles and mayo); Chicken Tenders (in 3- 5- 10- and 15 piece orders, with dipping sauce of your choice); and a Chicken Biscuit .
They're permanent additions to the Hardee's menu. Hardee's Rewards members should scope out a special deal for them posted online.
Chipotle reprises Carne Asada
Chipotle brings back Carne Asada (marinated then grilled skirt steak) in a special Quesadilla. The dish stuffs a flour tortilla with Monterey Jack cheese, Carne Asada, and grilled fajita veggies. A combo deal includes the Quesadilla and 3 sides of your choice.
Taco Bell tests $2 Stackers
TB fans will be well-aquainted with its Stackers folded quesadillas in Tucson, Ariz. We don't normally report test marketing exercises, but this one may portend a welcome addition to TB's $2 menu.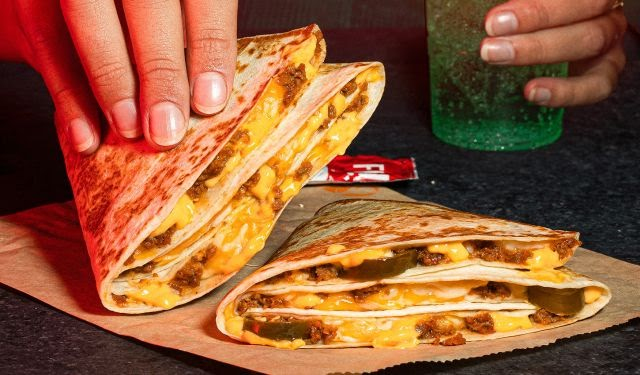 The quesadillas are built on a soft flour tortilla, stuffed with the Bell's seasoned beef, nacho cheese sauce, and three-cheese blend. They're being tested in original and spicy variants. The Spicy one adds pickled jalapeño rounds.
Hidden Valley blasts out Chili Crunch
The kings of Ranch are trying something new: Chili Crunch Ranch dip (see photo, top of page). It's a collab with celeb chef Stephanie Izard and her brand This Little Goat. The stuff incorporates gochugaru chili, described by Wikipedia as, "the dried, pulverized fruit of one or more varieties of chili pepper, sometimes with the addition of other spices." There's also garlic, masa (corn) chips, red quinoa and HVRanch seasoning. Order via the internet only, while supplies last.
Krispy Kreme brings back Apple Fritters
KK is featuring its jumbo Apple Fritters again for Fall. They're mouthwateringly described as handmade, glazed and filled, with apple chunks, apple filling, and cinnamon.
Available one at a time or in a special 4-piece box. A welcome departure from the usual Fall Fast Food menus, which as usual are drowning in Pumpkin Spite Spice.
McDonald's adds Pumpkin treats for Fall
McD's is brings back its Pumpkin and Cream Pie and Pumpkin Spice Latté at selected locations across the US. Also available for a limited time, Iced Pumpkin Coffee. You can also add a shot of Pumpkin Spice flavour to any McD's beverage at participating locations.
Dunkins dunks Munchkins
… And comes up with a new Ice Spice Munchkins Drink. It's an iced coffee bev: Frozen Dunkin's coffee is blended with Pumpkin Munchkins doughnut holes…
… topped with whipped cream and a drizzle of Caramel Sauce. Available across the US into October 31, while supplies last.
Coca-Cola rolls out new AI-inspired flavour
Coke Y3000 is sugar-free and marks the latest development in the Coca Cola Creations program. The soft drink giant describes it as: a product of, "human and artificial intelligence." It's available in the US, Canada, China, Europe, and Africa, for a limited time. The most recent previous Coca-Cola Creations flavour was 'Soul Blast'.
And that's the skinny…
… On the sweet and savoury treats that will be maki9ng so0me of us a little fatter through the coming Fall. See you back here in 7 for the next heart- and belly-warming edition of Fast Food Week!
~ Maggie J.