What a mish-mash of new product and menu items this week! We're hearing from no fewer than 8 major brands. Ed Sheeran gets into the sauce. And don't miss our own notice that we're cutting back on mentions of market tests and trials…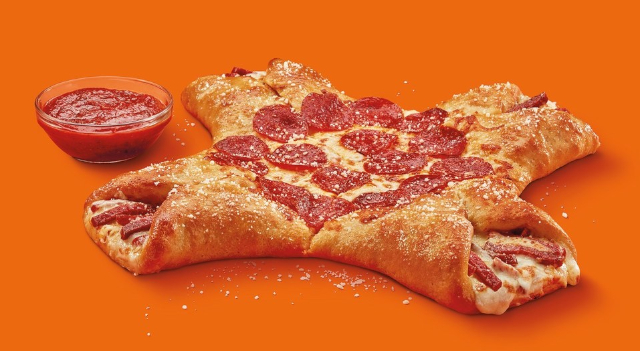 Little Caesar's New 4-Quarter Crazy Calzony
Trials and Tests Note: We're cutting back…
We've decided to cut back in the number of new product trials and test marketing exercises we list here at FFW. There are getting to be too many for us to keep track of. But we'll continue to faithfully bring you notices of every new limited-time and permanent menu addition as they come to us!
Little Caesar's bakes up 4-Quarter Crazy Calzonys
The 4 quarters configuration is significant, since the limited-time menu item is meant to kick off the NFL season. They're white sauce-based pies with pepperoni and Mozzarella cheese. Or you can get a plain Cheese version if you like. What's different is, they're folded creatively in a cross shape that give you 4 individual calzones – each with with its own 'handle'. At participating locations across the US.
Taco Bell unveils Cheesy Jalapeño Mexican Pizza
Fresh off its jubilant celebration of winning the 'Taco Tuesday' battle, the Bell is upping the ante on its Mexican Pizza.
The new duplexed pie features the usual fillings below, and adds Mexican pizza sauce, shredded three-cheese blend, nacho cheese sauce, diced tomatoes, and pickled jalapeños for an open-faced finish. Looks like a permanent menu addition, after testing last year.
El Polo Loco reprises Stuffed Quesadillas
They back, bigger and fatter than ever! Or so they look in the official product portraits… Choose from Poblano Chicken, Chipotle Chicken or Shredded Beef Avocado versions. For a limited time at participating locations.
Jimmy John's adding Wraps
It's a major addition to the main menu. The Chicken Caesar Wrap and the Jalapeno Ranch Chicken Wrap are returning…
…permanently (after two summers as seasonal fare), accompanied by a new Tuscan Italian Wrap. Wrap fans rejoice!
Panda Express intros Chili Crisp Shrimp
They're described as, "crispy-fried, tempura-battered popcorn shrimp wok-tossed in a savory chili garlic sauce with red bell peppers and onions." (See photo, top of page.) Alright! They come on a bed of rice. They're meant as a side dish. Available now through December 31.
White Castle does French Toast Sliders
Call it the next generation breakfast sammy. White Castle is frying up slider-sized slices of cinnamon swirl French Toast and using them as bookends for a fresh-cracked egg, American (Processed) cheese, and your choice of a sausage patty or hickory-smoked bacon.
Of course, you can also order the French Toast à la carte. For a limited time, there's a special deal under which you can order up a 10-slider bag for about $9.
Pringles gives you 'everything'
'Everything Bagel' flavoured chips that is. "From Pringles Philly Cheesesteak to Pringles Enchilada Adobada. "Fans have long enjoyed our endlessly creative flavor innovations," US marketing lead for Pringles Mauricio Jenkins said in a statement. "New Pringles Everything Bagel perfectly captures the nation's favorite bagel flavor for a seamless snacking experience, no cream cheese schmear or deli trip necessary."
Ed Sheeran launches Tingly Ted
The pop rocker has partnered with Heinz and a 6 ft. tall bear named Ted to create Tingly Ted's hot sauce. The brand is available in two heat strengths: Tingly and Xtra Tingly.
They're described as, "smoky flavor […] paired with lemon, red jalapeños, green chilies, and a mix of herbs and spices." Funny how that 'secret blend of herbs and spices' thing keeps cropping up in the food sector. Anyway, you can order TT's from Tingly Ted's.
Heineken sells Russian business
We don't include as many alcohol product snippets in Fast Food Week as we used to. After all, it's a 'family venue'. But the sale of Heineken's Russian business does merit a mention. They sold out for a symbolic single Euro. The Dutch brewer has been slagged off by critics for waiting so long to exit Putinland. Framing their move as somewhat altruistic, Heineken claims it will lose more than 300 million Euros a year by divesting and running.
And that's the skinny…
… On the best of the best new Fast Food menu item announcements from the past week. See you back here in 7 for the next bumper edition of Fast Food Week!
~ Maggie J.