Lots of variety in this week's top Fast Food product announcements! I'm particularly entranced by the new Jimmy John's zippy Jalapeño Ranch Chicken Summer Wrap and Taco Bell's Chili Verde Fries. I'll take mine in a burrito!
Jimmy John's adds Jalapeño Ranch Chicken Wrap for summer…
Burger King reprises 2 FOR $5 deal
Specifically, its the 2 FOR 5 Jr. Whopper deal. Choose any 2 of the 6 Jr. Whopper variants for just $5.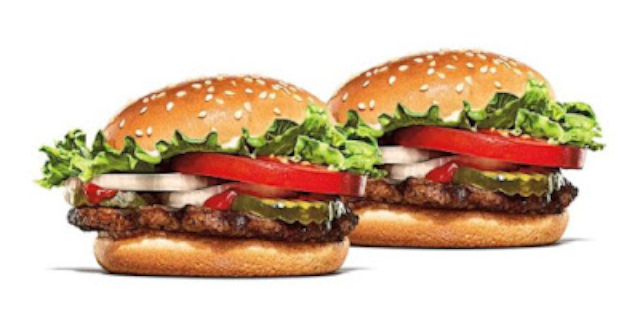 Described as an option for smaller appetites. Essentially a scaled down version of the 2 FOR $7 deal on regular-sized burgers, which continues…
Jimmy John's Summer Wraps are back
Jimmy makes it a trio this summer adding a new Jalapeño Ranch Chicken version to his existing Chicken Caesar and Thai Chicken Wraps. The new Spicy wrap features shredded chicken, provolone cheese, jalapeno ranch, crunchy jalapeños, and red pepper flakes in a flour tortilla. All available now, for a limited time, at participating Jimmy John's locations.
Taco Bell rolls out Chili Verde Fries
Here's a new Tex-Mex flavour experience. At the centre of the deal, a new Chile Verde sauce featuring jalapeno, lime, and zesty herbs.
The sauce is drizzled over seasoned fries The new sauce is poured over seasoned fries and marinated grilled steak. Then it's all topped with warm nacho cheese sauce, three-cheese blend, sour cream, crispy Fiesta (chip) strips. If that's not enough, you can get the aforementioned fries in a steak burrito!
Pop Trader Joe's does S'mores Clusters!
That's right. Just pop them. Anytime, anywhere – maybe best suited for chain-popping while watching movies or championship pro sporting events. Milk-chocolate covered clumps of mini marshmallows and graham cracker pieces. Reminds you of the chocolate bar experience, but seems to feature a richer texture and flavour balance, because it takes more chocolate to enrobe a flock of individual clusters than it does one bar. You win!
Kit Kat débuts new Churro flavour
Reviewers are saying, "Why didn't they think of this before?" In other words, "What better partners than Kit Kat and the ancient and venerable Churro?"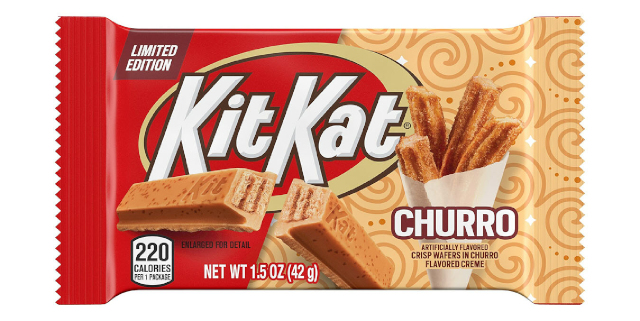 Imagine buttery, churro-flavored creme with sugar spread between KIT KAT's classic original wafers. Imagne no more starting June, 6 – National Churro Day – for a limited time.
Sonic's Strawberry Shortcake Snowball Slush Float
Could the name be any longer? Who cares! It's composed of a blend of strawberries and shortcake-flavored syrup swirled into an icy Slush, then topped with vanilla ice cream and sugar crystals. "The combination is meant to bring to mind the texture and crunch of an actual snowball." At SONIC locations starting this coming Monday, May 29, for a limited time.
Oscar Mayer renames Wienermobile
I don't know what's wrong with that old, established name. But I guess it just doesn't cut it with the new-age cancel culture types. Mayer now runs a fleet of 'Frankmobiles', in honour of the company's famous 100% Beef Franks.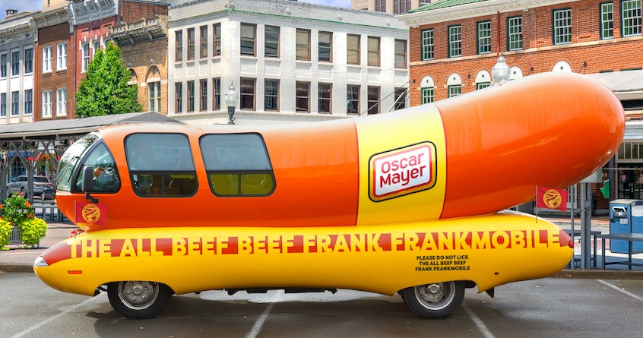 And this summer, anyone named Frank (or any version of the name) can get a coupon for a free pack of OM Franks when they encounter the Frankmobile. The thing is part of a promo for the new OM frank  – the first recipe change in decades, with a more balanced flavor profile and beefy taste.
Wendy's testing underground delivery
Sounds like something out of a James Bond movie: but it's true. Wendy's is reportedly testing robotic delivery to drive-in customers via underground tunnels criss-crossing their parking lots. Deepak Ajmani, the U.S. chief operations officer at Wendy's, said in a statement, "We know that serving orders quickly and accurately leads to increased customer satisfaction. [The] instant pickup system has the potential to unlock greater mobile order speed of service and accuracy, enabling us to consistently deliver hot and fresh Wendy's products to our fans."
And that's the skinny…
… On what's going to be making some of us a little fatter on into the summer 0f 23. See you back here in 7 for the next edition of Fast Food Week!
~ Maggie J.