Here it is, Saturday, again, and we have another week's worth of Fast Food sector announcements, launches and silliness… Notable among them, A new 'Toasty' from McDonald's, a brace of new Frappuccinos from Starbucks and another Breakfast Cereal partnership for Burger King…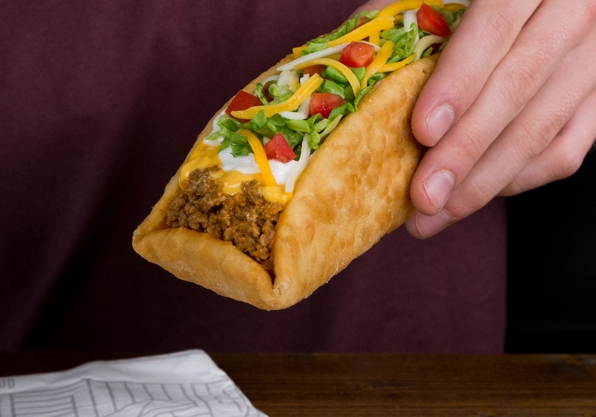 The Taco Bell Double Chalupa.
Taco Bell launches new Double Chalupa
Taco Bell is pushing forward with new ideas to try to raise its profile above the competition. The latest is a new Double Chalupa featuring an oversized Chalupa shell and double the seasoned Ground Beef, topped with Sour Cream, Tomatoes and Lettuce. Looks like a good bite!
BK unveils a new Mushroom and Swiss King
This is a really big burger featuring the usual twin quarter-pound Whopper Patties topped with Bacon, Mushrooms, Swiss Cheese and Mayo. It's the latest in BK's series of Premium Burgers and it's only available for a limited time…
McD's Fresh Beef Burgers increasing wait times
McDonald's customers say that they have to wait at least a minute longer for their Fresh Beef Quarter Pounders than they did when the meat came to the store frozen. Sounds like a small thing, but McD's wait times for an order were already close to four minutes, so another minute translates to a 25 per cent increase and must seem like an eternity to hungry diners. But the wait is worth it.
McD's is now serving 'Toasties' in Hong Kong
A Toastie is defined as a mac and Cheese Sandwich with added ingredients, toasted in a Panini press. The Corn & Cheese Champignon Toastie is just that; Corn Kernels and Mushrooms inside the Mac and Cheese Sammy. There's also a Bacon version that, well, adds Bacon to the basic Toastie. Why Hong Kong? I dunno. But this is one foreign menu item I hope they bring to North America. They'd sell a gazillion of 'em!
Starbucks Summer Frappuccinos are back
There are two new flavours this season: The Berry Prickly Pear version features a Lime, Hibiscus, and Passionfruit blend. The Mango Pineapple Frappuccino is… just what it says it is. They're here for the summer.
Meanwhile, BK has launched a Lucky Charms Shake…
A couple of Months back, Burger King unveiled its first collaboration with a fave kid's cereal of years gone by: A Froot Loops Shake. Now it's launched a new one featuring a Soft Serve base with added Sugar Syrup and crushed Lucky Charms cereal, both inside and on top of the whip. They're big and cold and about (US)$4 apiece.
Happy Summer!
And that's the cream of the cream of this past week's Fast Food launches. Most are here only got the summer, so get out and try 'em soon!
~ Maggie J.