This week on the Fast Food landscape… It's been relatively quiet. I guess most of the players made their big early-year announcements last week. But that doesn't mean it's been a dull week in the grab-and-gulp universe. What our weekly rundown lacks in punch it makes up for in, well… odd.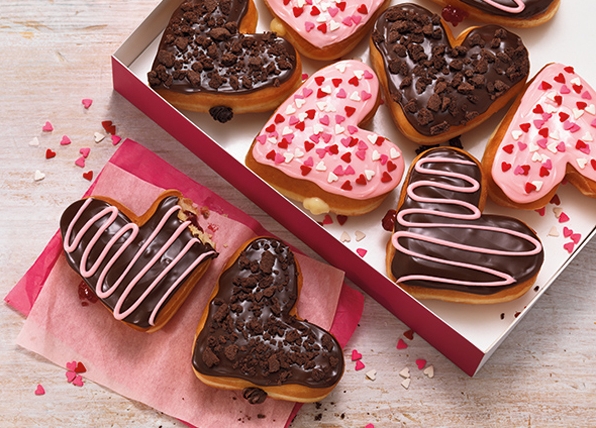 Warm your honey's heart with Dunkin's Heart-shaperd Doughnuts, now until Valentine's Day!
Tim's heading for Mexico!
Tim Horton's is expanding, again. Not to The UK, not to Europe, not to anywhere you'd have imagined. Word came pout this past week that the Canadian-rooted Coffee and Doughnut shop chain is heading sou8th of the borders – both of them, and setting up in Mexico. The company, now held by Restaurant Brands International (RBI), the same folks as own Burger King and a plethora of other familiar food/service brands, is targeting Mexico because, RBI CEO Daniel Schwartz said in a statement, "Mexico has a thriving coffee market so we are very optimistic about the opportunity to grow the brand across the country." .
ATM spits out Big Macs
A pop-up McDonald's in Boston was using a specially-designed ATM machine to directly fulfill patrons' cravings for a Big Mac. Go up, insert your Credit or Debit Card, and choose which member of the family and how many you want. The resto open for lunch only for a week up to January 31. We'd like to know where the ATM machine turns up next… This is probably a teaser/test getting folks used to the idea of McD's new order-and-pay kiosks, rolling out across the U.S. now.
Jack-in-the-Box goes Triple Bacon!
Remember how we noted, last week, that Burger King is one-upping McD's on its signature sandwich upgrades?
Now, Jack In the Box is offering a new Triple Bacon Buttery Jack Burger. It's a Brioche Bun and a Jack Burger Patty topped with real Bacon Butter, slabs of Hickory Smoked Bacon, and even Bacon Mayo.  Just another confirmation that this is, indeed, the season of Bacon.
Dunkin' Donuts has heart-shaped dunkers for Valentine's Day
Yesterday was Groundhog Day. Most of the furry weather forecasters involved said we're in for six more weeks of Winter. Sigh. But we can at least look forward to Dunkin' Donuts warming our hearts with heart-shaped, pink-themes dunkables until Valentine's Day. They're offering three kinds of special Doughnuts: Chocolate-covered Raspberry Heart Donut and the Brownie Batter Crumble Heart Donut. Plan now to try this new, quirky alternative to Flowers and Candy this Valentine's Day!
~ Maggie J.