We're counting down to the official start of summer with a whole laundry list of specials and new menu items. As a Canadian, I applaud the new Papa Johns Butter Chicken Pie. I also say 'Hurrah!' to Panda Express for putting its famous Orange Chicken in a full-breast sandwich!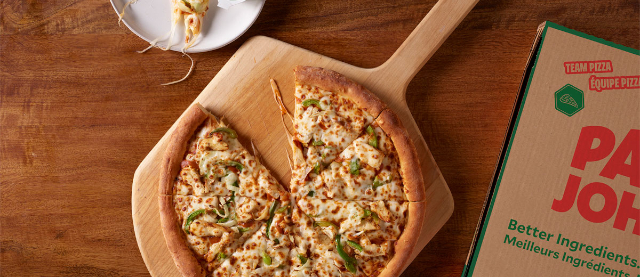 Papa Johns bakes up Butter Chicken
It's a butter Chicken Pizza, which starts with Papa's signature crust, adds a layer of creamy sauce topped with seasoned chicken, crunchy green peppers and onions. Why Butter Chicken Moreover, why is this new delicacy being offered in Canada only? Apparently, it's one Canada's fave Indian takeaway flavours. I'm Canadian. You could have fooled me…
Arby's stacks classic Americana Roast Beef Sandwich
It's a simple but delightful notion. Arby's signature thin-sliced Roast Beef stacked on a toasted sesame bun, topped with American (processed) cheese, lettuce, tomato, red onions, and special sauce.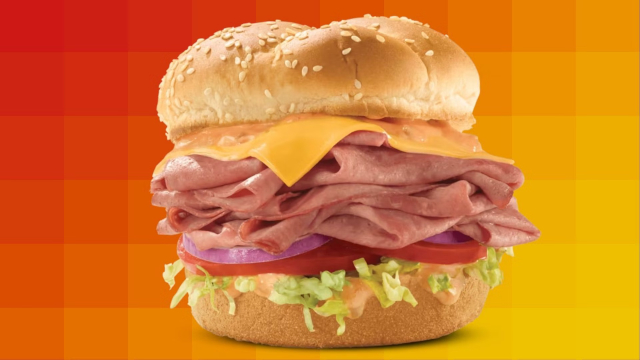 Available for a limited time at Arby's restos chain-wide, either solo or as as part of the current 2 FOR $7 Everyday Value mix-and-match deal.
Panda Express puts Orange Chicken in a sandwich
Panda's flagship stirfry bowl flavour has somehow – until now – avoided being stacked in a bun. But it will be testing starting July 11 at selected California stores. It's basically a whole boneless chicken breast glazed in the Panda's signature Orange Sauce served on a potato bun, and topped with pickles and sriracha aioli.
Taco Bell promos Rewards with free Crunchwraps…
The Bell is offering Rewards program members free Crunchwraps every Tuesday in June during breakfast hours – at participating locations. Access the freebee via an offer on the mobile app.
The Breakfast Crunchwrap features scrambled eggs, a hashbrown patty, cheddar cheese, Jalapeno sauce, and a choice of either bacon or sausage.That all goes on a spiral-wrappped flour tortilla that's filled then grilled.
… Taco Bell Watermelon Berry Lemonade Freeze
A new beverage/slush treat for summer consisting of a watermelon-and-berry-flavored Freeze swirled with lemonade syrup. It also comes without the Lemonade if you really want it that way. It'll apparently be here all summer.
Baskin Robbins cavorts with Cookie Monster
It's actually a pleasant sky blue scoop with swirls of chocolate chip and chocolate sandwich cookie dough.
It's brand new, and it's the flavour of the month for June. Almost reminds one of the famous photo of the 'little blue marble' taken by an early Apollo astronaut…
Burger King serves Spider-Verse Sundae
It's simply a cup of vanilla soft serve topped with black and red popping candies. One reviewer complained that it's 'a sundae only in the broadest sense', since it has only one topping and no sauce. But that's just one aficionado's take. Nevertheless, Spidey fans will most likely eat it up!
And that's the skinny…
… On the crème de la crème of what's going to be making some us a little fatter through this summer. See you back here in 7 for the next edition of Fast Food Week!
~ Maggie J.