It's been a big week for burgers, with Checkers/Rally's, Wendy's and Jack In The Box. Firehouse has a new sub for summer. And El Pollo Loco is adding two new double Chicken Salads. And Domino's jetpack stunt…
Domino's pulls thrilling jetpac stunt
The Pizza giant flew orders to attendees of the Glastonbury Music Festival their orders by jetpack last week. Attendee Natalie Dixon said, "Seeing a jet suit thing fly over Glasto was wild. I've never seen a jet suit, let alone one delivering pizzas. I can't wait to see one land on my doorstep in the future." It was a promo for Domino's new Pinpoint Delivery service…
Food courier hourly wage: Chapter 2
Uber Eats, DoorDash and GrubHub are suing New York City order the new law mandating an hourly wage for food couriers. Their request for a restraining order against the move failed. Delivery company spokespeople said the increases – from an average of (US)$7.60 an hour to over $17 – would mean customers would have to pay a lot more. Looks like this one's far from over, folks…
Checker's and Rally's launches new Chicken, Beef burgers
The fast food tag team is launching a new Chedda Chedda Buford Burger and its chicken counterpart, the Chedda Chedda Mother Cruncher Chicken Sandwich.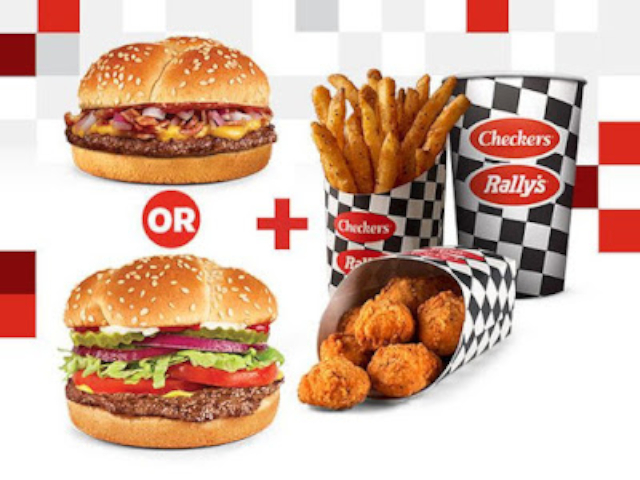 (Have I mentioned that Burger Names have been getting longer and longer?) Starting with a new Cheddare Cheese Bun, the new menu items feature either a thick Chicken patty or twin Beef Patties. Both are topped with American cheese, cheddar cheese, Swiss cheese, dill pickles, ketchup, mustard, lettuce, parmesan garlic sauce and mayo. They're also part of the $5 Meal Deal.
Wendy's offers BOGO-for-$1 deal
That means 'buy one, get one for $1' on the following Wendy's menu items: Dave's Single; the Spicy Chicken Sandwich; 10-piece Chicken Nuggets or a medium Chocolate Frosty. Available either in person or thru the app, for a limited time.
El Pollo Loco débuts two new salads
They're Double Chicken Chopped Salads, and they come in 2 versions, with and without Mex-style Street Corn, both featuring a double serving of cubed chicken.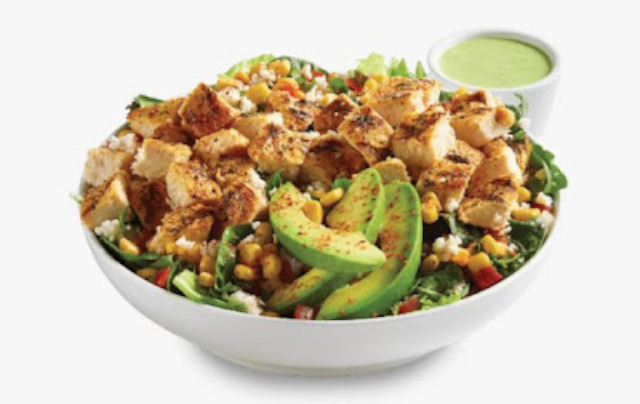 The Classic comes with sliced avocado, pepitas, queso fresco, spinach, lettuce, super greens, and pico de gallo, and creamy cilantro dressing. The Street Corn version adds corn, lettuce and chili-lime seasoning. It drops the spinach and pepitas.
Long John Silver brings back Shrimp Basket
The popular $6 deal comes three ways: 6-piece Grilled Shrimp (served over rice with 1 side); 6-piece Battered Shrimp (served with 1 side and 2 hush puppies); and Crispy Breaded Popcorn Shrimp (served with 1 side and 2 hush puppies). This is the second time around for the basket this year; it was also featured for Lent.
Firehouse Subs reprises Meatball 'mashup'
Firehouse has re-lunched the Pepperoni Pizza Sub, "a classic meatball sub, pepperoni pizza, and garlic bread".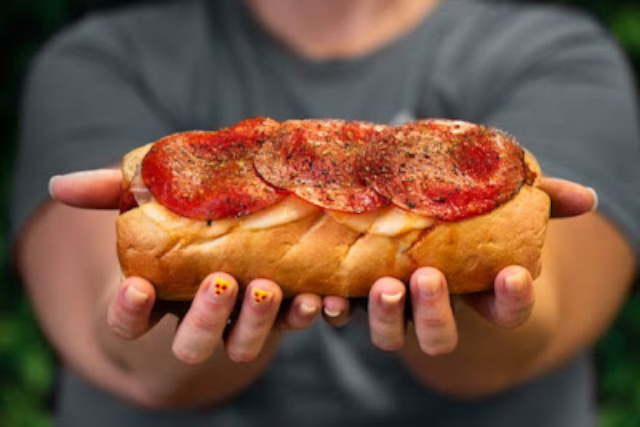 It starts with a toasted garlic bread bun, adds a foundation of meatballs, and tops that with, marinara, provolone, pepperoni, and Italian seasoning. It's a limited-time offering (of course) at participating US Firehouse locations.
Jack In the Box testing smashburgers
JITB is testing smashburgers in greater Los Angeles and Dan Diego (see photo, top of page). A company statement says: "This new burger features a quarter pound of seasoned beef with imperfect edges, melty American cheese, pickles and grilled onions on a brioche bun and will also introduce a new sauce." The JITB smashburger comes as a single and a double with bacon. One Internet food blogger who tried them says they take a bit longer to come out of the kitchen, but the flavour is great.
And that's the skinny…
… On the premium deals and menu items that will be making some of us a little fatter over the remainder of this summer. See you back here in 7 for the next premium edition of Fast Food Week!
~ Maggie J.