McDonalds has announced it is discontinuing its popular third-pound Angus Burger – at least in the U.S. The reason? The company can't pass on the recent steep increases in beef prices to customers and stay competitive in its ferociously competitive market.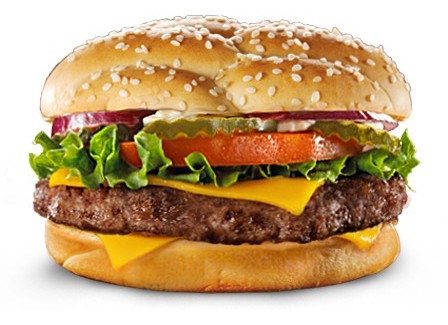 The McDonalds Third-Pound Angus Burger. Victim of cutbacks.
So… The ground-breaking, high-end Angus Burger – introduced only four years ago – has become the first mass-market victim of rising beef prices. We predicted casualties last fall and, although we've all seen the price of beef rise in the supermarket, only now are the biggest 'consumers' of beef finally feeling the pinch.
As you may recall, farmers who grow animal feed crops – notably corn – had a really bad year last year across North America due to a severe drought. Feed prices rose due to the resulting shortage. And beef farmers culled their herds over the winter to avoid paying through the nose for the feed that was available. That has caused caused a shortage of beef and that, in turn, has caused beef prices to soar to record highs in North America.
McDonalds also eliminated some high-end chicken-based menu items in the U.S. this past March, along with salads containing relatively expensive ingredients such as walnuts and fresh fruits, as a result of rising costs for those key ingredients.
McDonalds U.S. spokesperson Danya Proud did hold out some hope for McAngus lovers, though, saying, `"While these burgers will no longer be available in our restaurants, they may still play a future role on our menu."
And, as far as we know, the Third Pound Angus burger is still available in Canada.
Will other mega chains follow suit, mothballing their top-end beef offerings as prices continue to rise? We`ll see.
~ Maggie J.