The annual U.S. Lay's 'Do Us A Flavor' Contest is moving into its final stages. And he company has released it's three 2017 flavour finalists. In Canada, we do things a little differently, but the results are just as tasty. And there's a Twitter campaign promoting their #WorldFlavourites selections…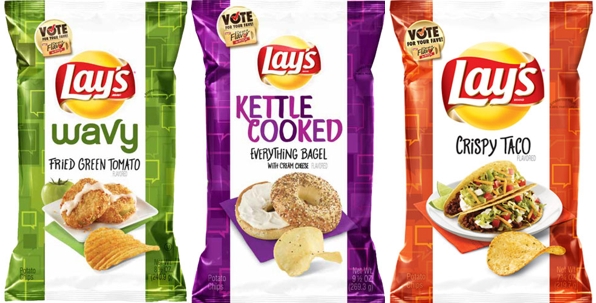 The U.S. Lays 'Do Us A Flavor' Contest finalists…
The U.S. Lays Do Us A Flavor Finalists are: Crispy Taco, Fried Green Tomato and Everything Bagel. They all sound really good for me. Especially the Everything Bagel, which I envision as an exceedingly good dipper! Just wish it was reinforced with corrugations like the Fried Green Tomato…
The Canadian #WorldFlavourites campaign is featuring a broad selection of flavours including: Cheddar and Sour Cream, Cheese (Cheddar again) and Onion, Thai Sweet Chili and all-Canadian Bacon Poutine. I'm especially interested in trying the Thai Sweet Chili. It's one of my favourite Asian food flavours
In addition, Lays Canada is featuring (for summer) another all-Canadian flavour: (Swiss) Chalet Sauce. For those who aren't from Eastern/Central Canada, Swiss Chalet is a popular Rotisserie Chicken restaurant whose spicy Chicken gravy is legendary. This flavour keeps coming back, albeit for limited runs, due to customer demand!
Vote for your favourite…
Voting for the U.S. Do Us A Flavour champion opens this coming Monday, July 24, and you can weigh in with your pick at Lays.com. You can also vote on social media with the hashtag #SweepstakesEntry and your choice of #VoteEverythingBagel, #VoteFriedGreenTomato, or #VoteCrispyTaco.
Cheers!
~ Maggie J.