Well, not 'rocks', actually, more like 'divides opinion' and has so-called experts shaking their heads. Seems that, while one School Board is banning Chocolate Milk from elementary and middle schools starting this fall, another is bring it back. Both stands have their pros and cons…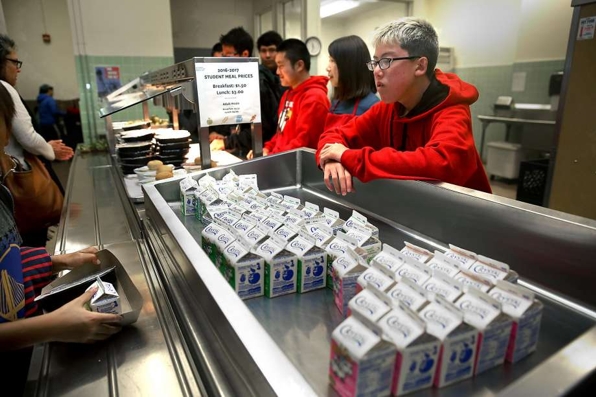 A School Lunch line in San Francisco… Only Skim or 2 per cent; no Chocolate…
The San Francisco School Board just announced it will ban Chocolate Milk from its elementary and middle school cafeterias starting this fall. That will save kids 35 Calories and 10 grams of Sugar over the same pint of regular white Milk.
But will it fly?
The Board experimented with the ban last academic year. Libby Albert, executive director of the district's Student Nutrition Services, says the kids eventually adapted to the new regime.
""The kids grumbled about it for a couple of days," Albert told the San Francisco Chronicle. But they started drinking plain white Milk after a few days. End of story?
No at all.
The Los Angeles Unified School District – largest in the state – banned Chocolate Milk in 2011 and studied the results over six school years.While San Francisco is banning it this fall, L.A. will be bringing it back.
Why?
If you're looking at overall nutrition, offering Chocolate Milk is a great incentive to get kids to drink their milk. In a pilot program last school year, the L.A. District found that total Milk consumption increased by a whopping 23 per cent the after Chocolate option was reintroduced.
A 2014 Cornell University study supported the L.A. stance finding that, while banning chocolate milk could reduce calorie and sugar consumption, it could also mean less milk consumed, more waste and fewer kids buying school lunch.
Seems to me that just focusing on Sugar and Calories is a pretty narrow and unbalanced basis on which to declare a ban. But, if reducing students' Sugar and Calorie intake is what San Francisco School Board members are determined to to do, then that's what they'll accomplish. Just… What other nutrients are being sacrificed is the kids drink less milk overall and buy fewer dietarily balanced school lunches?
~ Maggie J.