I felt a sudden rush of reassuring warmth a couple of days ago when I came across today's recipe. Back in the 50s and 60s, there was a long-running series of 'Recipe Ideas From Campbell's' suggesting creative ways to use canned soups. Now, after decades, a new one has popped up!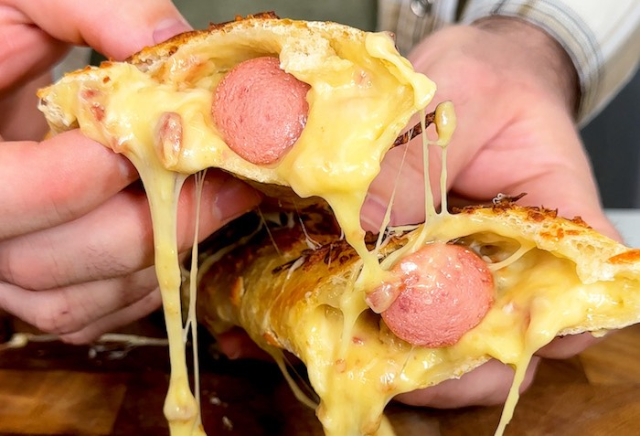 Reach Guinto's retro revival Canned Soup burrito/calzone/savoury strudel 'recipe suggestion'.
Maybe not an optimum nutritional profile, but once in a while won't hurt…
Before getting into the recipe itself, I want to make it clear, I'm focusing on the filling, here. The recipe suggestion, from noted food blogger Reach Guinto, culminates in a burrito/calzone/savoury strudel sort of creation. But there are lots of ways to use it…
Couldn't be easier
This recipe is more of a technique into which you can drop a whole range of different focus ingredients. Form example, Guinto is featuring hot dogs as the star of his gooey-glam production. And wrapping it in pastry. But you could present it as a casserole or a pot pie! Here's your cue to get creative…
Like most moms in the post-WWII era, mine loved to fall back on the recipe ideas presented on the labels of her fave prepared and packaged foods. They featured a different variety of whatever they maker wanted to promote and changed every few weeks. Among the most popular were the canned soup creations. The gimmick was also big with the dried soup mix purveyors and prepared tomato sauce pushers. Some serving suggestions actually grew into new products. Witness Sloppy Joes, for one!
The nitty gritty…
Here's my take on Guinto's recipe. I've suggested a few tweaks here and there, and indicated them as such.
Ooey-Gooey Good Bake-Up Filling
1 can of Campbell's® Condensed Cream of Chicken Soup
1-2 Hot Dogs
4 Strips Bacon
Packaged Pizza Dough
¾ cup Grated Mozzarella Cheese
½ cup Grated Parmesan Cheese
1 egg
Preheat oven to 375.
Cook 4 slices of bacon until crispy then chop finely.
In a large bowl, mix together 1 can of Campbell's® Condensed Cream of Chicken Soup, ½ cup of grated mozzarella, ½ cup parmesan cheese, and the chopped bacon.
Open the packaged pizza dough and roll it out into a large rectangle. Cut in half down the center of the long side –  you can get 2 bakes out of 1 packet of crust dough.
Spread a layer of the soup and cheese mixture along one end of the dough and place a hot dog across the center of the spread. If you have any extra length that is un-dogged feel free to add another dog into the mix.
Roll the pizza dough around the filling and press the edges sealed. Continue to roll the dough into a tight cylinder until all excess dough is wrapped up in the log.
Place the log on a parchment paper lined baking sheet.
Make an egg wash by beating 1 egg with a splash of water and brush the egg wash across the top of the log.
Sprinkle the remaining mozzarella cheese across the top and then bake until golden brown, just about 15 minutes.
Variations
You can see how easy it would be to adapt this recipe to the aforementioned pot pie or casserole formats. Bet you could come up with lots more!
I'm also attracted to the idea o substituting other focus ingredients for the hot dogs. How about pre- or par-cooked Cauliflower, Broccoli or other robust veggies? This would also be a great way to use up leftover cooked meats. Vary the cheese type to complement the focus food (beef, lamb, chicken, turkey, ham or whatever). Vary the soup type to fine-tune the overall experience to the focus food.
I also like the idea of varying the bread/pastry wrapper type. Try your fave short pastry, pizza crust, crusty bread or flatbread recipe. A special wrapper with a special garnish makes it a whole new dish!
Then, if you're like me, immerse yourself in the memories of those canned soup creations from your childhood…
Special thanks to…
Reach Guinto, who collaborated with Campbell's Soup on this blast from the past!
~ Maggie J.