What's more fun than a bowl of Cookie Dough when snacking floats to the top of your COVID-19 menu? Ben & Jerry's has released the recipe for its beloved Cookie Dough – star of many a B&J's flavour favourite. But the secret behind making safe edible Cookie Dough might be the most important part…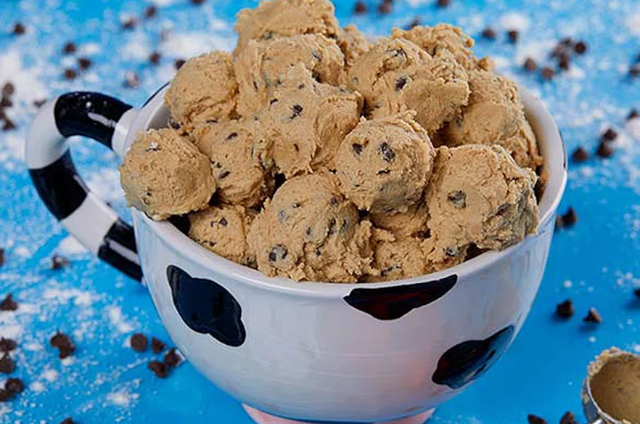 Ben & Jerry's Chocolate Chip Cookie Dough: Home-Made Edition…
I clearly remember the first time someone asked me, "Where can I get Cookie Dough that's safe to eat raw, without the Ice Cream?" No ice Cream? Can it be that Cookie Dough has eclipsed Ice Cream as the ultimate popular cold, creamy treat? Not in my universe, but I'm not a Millennial or a Gen-Xer…
Anyway, the demand for edible raw Cookie Dough has not waned since it first emerged as a fad-cum-trend a few years ago, and it's something both simple and special you can get the kids involved in making during the COVID-19 stay-home mandate.
The secrets to safety
The great debate about eating raw Cookie Dough has always, is it safe? After all, every classic Cookie Recipe includes at least one Egg, we all know that Eggs can harbour Salmonella which will make you really sick. Some folks who catch Salmonella poisoning actually die. Then, more recently, there's the rising spectre of contaminated Flour. Plain old flour can carry Salmonella, and millions of pounds / Kg of Flour have been recalled at fairly regular intervals due to Salmonella contamination.
Ben & Jerry's says the easiest way to 'sterilize' your flour is to microwave it until it reaches a uniform temperature of 165 F. Just mic your pre-measured Flour in a microwave-safe bowl for 30 seconds at a time and stir, checking with an instant-read thermometer until the entire bowlful reaches the minimum safe temperature.
The Eggs issue is even more easily addressed: Just don't use Eggs. The simple secret to B & J's at-home recipe is to use Heavy Cream as a binder. No need to source or worry about adding molecular gastronomy or commercial texturing agents to your family's food; no doubts, no guilt, no stress!
But these two pivotal tips are merely procedural and substitutional points which are applicable to any flavour of edible raw Cookie Dough – which open the door to hours of future Cookie Dough fun!
The recipe
What you need
8 tbsp. / 125 ml unsalted Butter, room temperature (ie.- spreadable but NOT melted)
1 cup / 250 ml Brown Sugar, packed *
2 tbsp. / 30 ml Heavy Cream
1 tsp. / 5 ml Vanilla Extract
½ tsp. / 2.5 ml Salt
1 cup / 250 ml Flour
½ cup / 125 ml Chocolate Chips **
* For Chocolate Chip and other Cookie Doughs that are typically brown in colour and have a touch of 'Molasses' flavour. Substitute regular Granular White Sugar for other flavours.
** For Chocolate Chip Cookie Dough, specifically; substitute other additions for other flavours of Cookie Dough.
What you do
First, heat treat the flour to ensure it is safe to eat. Do not skip this step, untreated flour can contain contaminants and is not safe to eat. Place the flour in a microwave safe bowl and microwave on high in 30-second intervals, stirring in between. Use an instant-read thermometer to ensure that the flour reaches 165°F throughout.
In a stand mixer or using a hand mixer, beat together the butter and sugar until light and fluffy.
Add the vanilla, cream, and salt. Mix to combine. Then add the heat treated flour and mix to incorporate.
Fold in the chocolate chips.
Serve and enjoy! Store in an airtight container in the refrigerator. For longer storage, place tightly covered container in freezer.
Pretty simple, huh?
Tip: Its even better after half an hour or so in the fridge…
Now let your imagination loose!
Check your pantry, fridge and other food storage spaces for stuff to fold into your edible Cookie Dough! Experiment with ingredients such as Cocoa, Peanut Butter, Syrups, Jams / Jellies, etc, to get the moisture content and texture right.
But above all else…
… Have fun and banish – if only for an hour so so – the Lock Down Blues…
~ Maggie J.