Here's a feel-good story that's coming out of the hurricane and flood disaster in Southeast Texas this week. Anheuser-Busch Breweries is sending three truckloads of emergency drinking water to the American Red Cross, which is coordinating relief supplies in the Gulf Coast area. I had no idea…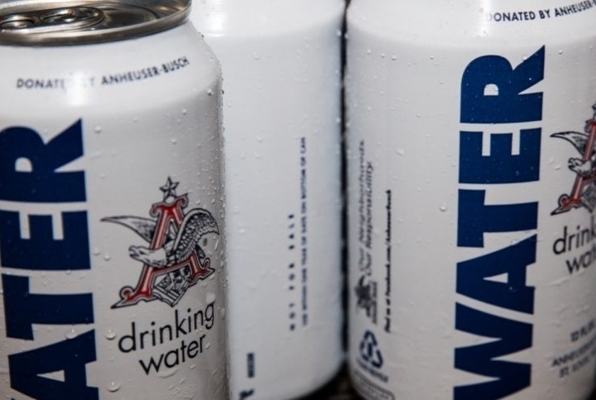 Recipients of Emergency Drinking Water donated by Anheuser-Busch Breweries
will definitely know where their beverage came from…
You never hear about it, and Anheuser-Busch itself rarely blows its own horn, but the company has been canning and shipping clean, safe drinking water to areas suffering natural disasters since 1988.
The Busch Brewery in Cartersville, Georgia, halts beer production several times a year and turns its canning machines over to pure water. The water is stored there and shipped to the Red Cross when it makes an urgent request for disaster support – as it has in the wake of Hurricane Harvey.
Harvey was a force four hurricane when it came ashore in Houston last weekend and has been drenching the entire south part of Texas with record rainfall since then. Now, the storm is still dumping huge amounts of water in the Houston area and and moving slowly northeast, into Louisiana. State and U.S. Federal officials say recovery from Harvey will take not days or weeks, or even months, but years. The Red Cross has opened more than 50 relief shelters for folks flooded out of their homes across the region.
One truckload of 'Bud-water' is going to Baton Rouge Louisiana. Two more are headed for Arlington, Texas. The Red Cross will take over distribution from there. A total of 155,000 cans will be delivered by the end of the week.
Last year, Anheuser-Busch sent emergency drinking water to the sites of the California wildfires, the Louisiana floods, and Hurricane Matthew. Since its drinking water program started, the company has shipped more than 76 million cans.
Talk about your unsung heroes! Good on you, Anheuser-Busch…
~ Maggie J.