I thought I'd heard everything when I read the recent reports about an 8,000-calorie breakfast being used to promote a British café, and using Raman Noodles to make a nouveau Burger Bun… But the topic of today's post is, in all respects, something completely different…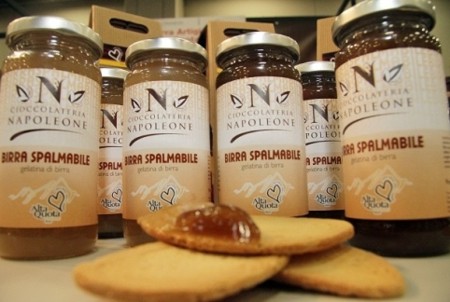 Spreadable Beer… Do we really need this?
Monty Python fans stand at ease. We're not going to resurrect the infamous Whizzo Quality Assortment (featuring Anthrax Ripple chockies) or the universally-loved Spam anthem. Although what we have for you today really is rather appropriate to the University of Wallamaloo Drinking Song.
I refer to the announcement by a consortium of Italian choclatiers and brewers that Spreadable Beer is now available. You heard it here first. Or, maybe, second.
Birra Spalmabile is available through online retailer Firebox. It's non-alcoholic although it contains more than 40 per cent beer, 'predominantly sweet in flavour' and comes in both Light and Dark Malt Roast versions. No kidding.
No, I haven't tried it…
…But I imagine it tastes something like a cross between Marmalade and Marmite. They say you can spread it in Toast, just like Marmalade or Marmite, or use it to flavour other foods. I imagine it would make an interesting additive to Desserts. Birra Ice Cream, anyone?
Anyway… This new creation is really just another attempt by the makers of well-established conventional products to set themselves above the noise and clutter in their respective niches. The idea is to increase sales and make their products and themselves household names. But that's an ever more difficult thing to do these days, with many, many more players in the game – every game in the food production and service sector – and nowhere to go when it comes to elevating quality of either the food or the service.
Nuclear Hot Pepper Pizza. Eight-Patty Burgers. Chocolate Coated Fried Chicken. The infamous Cronut, followed by the whacky Whonut. Coffee 'Flour'. It's one thing after another. They come and go pretty quickly, for the most part. That's because, at their core, they are nothing buy fatuous fads, capable only of getting their respective creators one or two headlines in the 'Nutty News' section. And, then, people just go back to real food, well-made and served with a smile.
As I've said before, restauranteurs – especially small operators – should focus on something they know well and do better than anybody else in town. And that includes doing it in the appropriate place: Seafood at the seaside and Burgers in Beef country, and Italian Food in Little Italy.
So there.
~ Maggie J.