The corporation that owns and operates Swiss Chalet Rotisserie Chicken restaurants has bought the Quebec-based St. Hubert Rotisserie Chicken restaurant chain for just over half a billion dollars. That's a lot of chicken. But the Ontario-based takeover has a lot of Quebec nationalists up in arms…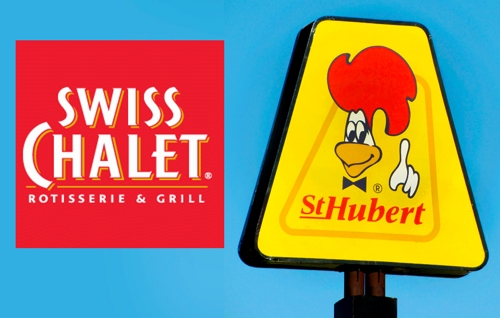 Swiss Chalet and St. Hubert will henceforth be owned by the same mega-owner.
Will this change the way the two brands are marketed?
CARA Foods, which not only owns the Swiss Chalet brand, but it also controls Harvey's, Milestones, Montana's, Kelsey's, East Side Mario's, New York Fries and Bier Markt. Which makes it Canada's third-largest restaurant owner, after Restaurant Brands International (Tim Horton's and Burger King) and McDonald's.
Some Quebecers say that the absorption of all-Quebecois St. Hubert by English-Canadian CARA is a cultural crime. Some even fear that the iconic Quebec brand will be transformed – homogenized – into the Swiss Chalet identity. Probably not. At least, that hasn't been the practice of mega-owners in the vast majority of recent brand takeovers. In fact, the popularity and marketing power of a brand is what makes it a valuable commodity. And the fact that St. Hubert has historically operated in territory where Swiss Chalet does not makes it all the more likely that CARA will continue to operate both brands in their traditional market spaces.
There's more to the merger than meets the eye…
In buying St. Hubert. CARA was also eyeing the Quebec chain's other business – prepared St. Hubert signature foods sold widely in Quebec supermarkets. That's a big business, and it's something some of CARA's other divisions are already well acquainted with.
But one debate continues to smoulder…
Which Chicken chain has the best Sauce? Both are famous in their own territories for their spicy, meaty brown 'secret' sauce. In the wake of the merger announcement, Yahoo! Business is running a poll on Twitter. Whether you pull for #TeamHubert or #TeamChalet, you can check the current poll standings here…
~ Maggie J.