…Or, at least, give you a much-needed leg up in the world. That's the premise behind a number of notable restaurant and food service projects that are changing the lives of ex-cons, recovering drug addicts and under-privileged folks all over North America. Here are just a few of the success stories…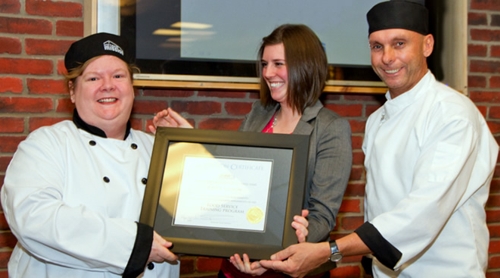 A recent graduate of The Ottawa Mission Food Service Traning Program (l.)
and Food Service Director, Chef Rick Watson (r.)
It has come to pass – perhaps because of a natural tendency of people of all sorts to gravitate toward the essentials of life – that many different organizations all over North America have built  successful programs around food service training for recovering addicts, the homeless, ex cons and kids who need a leg up into the working world.
Ottawa Mission Training Program
Here in my own town – which also happens to be the Capital of Canada – there are hundreds of homeless and street people. They can always get a hot meal and a bed at the Ottawa Mission. That's good. The Mission serves, on average, 1,300 meals per day 24/7/365, over three shifts. That's good, too.
What's better, they can also get valuable food service industry training in the Mission's Kitchen. The Food Service Training Program at the Ottawa Mission has been operating for several years, now, and has graduated dozens of new cooks. And that's good, because there is a chronic shortage of skilled cooks in the food service industry. It's also good because it gives people who would otherwise have no way of entering the job market an 'in'. Thank Mission Food Services Director, Chef Ric Watson for this initiative.
There's similar program in the U.S. Capital…
The DC Central Kitchen provides an average of 5,000 meals every day to 80 nearby homeless shelters, transitional homes, school lunch programs and nonprofit organizations. It also recycles tons of 'leftover' food from restaurants, supermarkets and wholesalers.
And, in the midst of all this frenzied activity, there's a culinary job training program for unemployed men and women. The program boasts a 90 per cent job placement rate on graduation. DCCK is definitely meeting its mandate: "…to use food as a tool to strengthen bodies, empower minds, and build communities."
Cooking for Change
The Food Service Training Academy of the FoodBank of New Jersey's goal is to give people in need if a fresh start a leg-up into a good job. The CFBNJ has a wide variety of programs that support hunger relief efforts throughout the state, as well as on- and off-premises catering. Besides giving students 16 weeks of food service training, the FSTA program offers life skills coaching, job readiness training and job placement assistance. In fact, the program has graduated more than 800 new food service workers since the year 2000.
There's even a coffee table book about this remarkable program. It's titled Cooking for Change and its available on Amazon.
Worth Our Weight
And, shifting from the mega-program in DC to the micro we present Worth Our Weight, a restaurant-based program in Santa Rosa, CA,  that provides tuition-free food service training to, "…young people from 16-24 who have faced major challenges in their lives, including foster care, difficulties with the law, homelessness, and significant family disruption."
The program is sponsored almost entirely by local businesses and individuals and is the brainchild of Executive Director Evelyn Cheatham, a professional food service training instructor. It even caught the eye of Guy Fieri, host of Diners, Drive-ins and Dives on the Food Network. And so it should! He's a Santa Rosa native, opened his first restaurant there and many members of his family still live in town…
That's just the tip of the iceberg
That's just a small sample – ranging from city to country, large to small – of the creative food service training programs across North America giving people in need a second chance and helping to meet the needs if a industry which suffers a chronic shortage of qualified workers. I'll be there's one near you and I'll be it could use your help!
~ Maggie J.