It's a classic 'Which came first – the chicken or the egg?' situation. Did Tyson meat sales slump because demand declined? Or because supply sagged? Maybe both. Or a combination of conditions that caught consumers in the middle…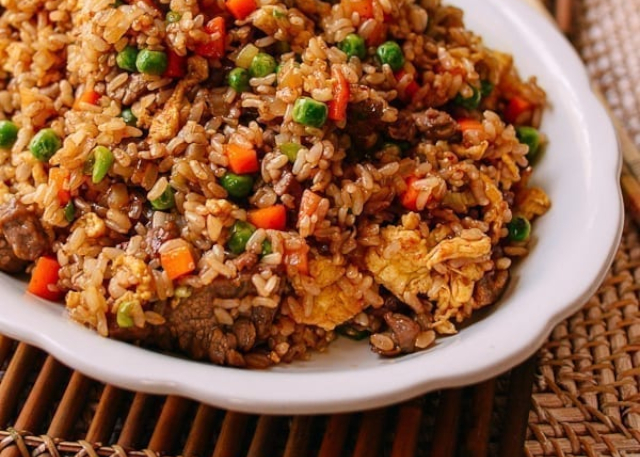 Stir-fried rice, beans and a little bit of chicken: a classic veggie-oriented
main dish. Tastes great and satisfies just as completely as a meat-
dependent meal – with or without any meal at at all!
Tyson meats is arguably the single largest producer of processed chicken in the U.S. As such, whence goeth Tyson, so goes the industry. With that in mind, digest this: Tyson sales have sagged dramatically over the past 3 years, with the downward trend continuing into the second quarter of this year. And the company recently admitted its shares were down another 16 percent since the beginning of the year.
The company lowered its forecast for full-year sales to $53 billion to $54 billion from $55 billion to $57 billion, after adjusted operating income for the first half of fiscal year 2023 sank 80 percent to $518 million.
"This quarter was definitely a tough one," Tyson CEO Donnie King said on a conference call.
Why the sales slump?
There are several contributing factors, according to King. In fact, they're the same basic factors that have driven beef prices so high over the past 18-24 months: increased feed costs pushing up livestock prices, still-high transportation costs from farm to plant. That's the result of fuel and maintenance costs, and driver availability.
As demand for meat declined, farmers have slashed their herds and flocks to avoid producing a money-losing surplus. The other side of the coin was, Tyson had to pay higher prices competing with other processors to buy the available livestock.
Then, Tyson had to raise the wholesale price of its products to compensate. And many consumers consigned chicken to the same status as they already had awarded beef: priced out of their reach.
Tyson hiked meat prices last year to offset inflation, but average sales prices for its beef and pork fell 5.4 percent and 10 percent, respectively, in the quarter ending April 1. Reduced demand for beef is making it difficult for Tyson to pass on higher costs to consumers, the company said.
Farther-reaching consequences…
Let's now glance left and right across the chicken market vista for a moment. Tyson supplies many major retailers of beef and chicken products with massive amounts of products. The figures soar into the thousands of tons of chicken patties and nuggets and beef burger patties annually. How long will it be before outfits like McDonald's. Burger King and their ilk have to raise their menu prices on items that contain beef and chicken? And how long after that will hungry folks on the grab-and-go circuit take to find something new (and cheaper) to quell their cravings?
Bet those hungry folks with limited food budgets will sink lower and lower into the morass of prepared and highly-ultra processed foods. They'll have full bellies again, and their cravings for salt, sugar and fat will be satisfied. But their health will undoubtedly suffer. There's another downward spiral.
My take
Here's another reason for folks to consciously explore the coming world of plant-based proteins and to consider adding more fresh fruits and veggies to their diets. Initially the costs are high. But as we all get into the swing and start planting our own gardens and shifting our expectations from chicken to tofu, we'll al be better off. Prices will settle down for proteins. And increased supply will help push fresh fruit and vegetable prices down.
It may take a while for the overall food picture to stabilize. But we will we will be in a much better place to respond to climate issues and other challenges than we have been up to now. Beans and Grains – the principle constituents of plant protein diets – can be gathered during good harvest years and stored a lot longer longer than meats. With proper planning, no one will ever need go hungry again.
And it's up to us – the folks who lead the trends in the food sphere – to start coming up with new recipe and food-combination standards now – cribbing as much as we want from Asian and other cuisines that make much better use of herbs and spices than we currently do here in the west – to create a whole new culinary culture.
My supper tonight? Stir fried veggies with just an handful of diced chicken… On a bed of brown rice. With a mouthwatering dressing of Teryaki flavours!
Give it a shot…
~ Maggie J.