I've come across a really fascinating survey that delves into the most fundamental facts about the biggest American Turkey Feast Day of the year. There are answers in there to questions I never even thought to ask before. Some of the stats will surprise you!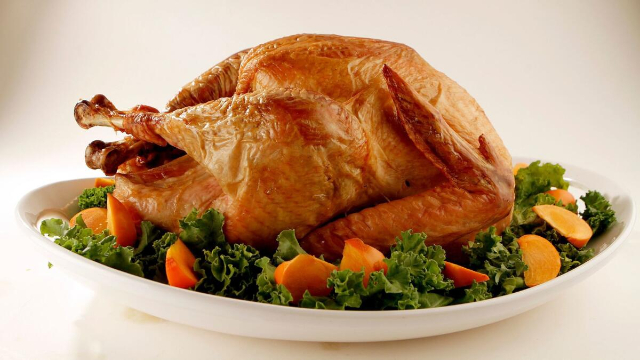 This is the first…
… Of a series of snapshots from an extensive Thanksgiving Harris Poll commissioned by the Instacart grocery delivery service. I've never seen a study that produced such a wealth of information about one traditional family feast before. There are so many fascinating knowledge nuggets in there that we'll have to take several posts to properly explore them all!
The State of the Feast
Americans are declaring the COVID Crisis over – at least for purposes of planning big family gatherings and celebrations.
"According to recent Instacart surveys among more than 2,000 U.S. adults conducted online by The Harris Poll, nearly all Americans (91 percent) are planning to celebrate Thanksgiving dinner this year," the survey report preamble tells us.
"More than half of Americans (55 percent) say they expect to have less than 10 people at their Thanksgiving dinner this year, with more than 1 in 5 (22 percent) expecting just 4 people or less. Meanwhile, some Americans are planning bigger celebrations, with more than 1 in 3 (37 percent) saying they expect to have 10 or more people for their Thanksgiving meal this year."
Let's start with the Turkey…
The poll reveals that a healthy 85 percent of Americans planning to celebrate Thanksgiving will serve the traditional Turkey Feast.
Turkey size preference spans the whole spectrum, from large to tiny:
34 percent will cook a large turkey
34 percent will prepare a medium-sized bird
18 percent will serve a small turkey
3 percent will roast the tiniest turkey they can get.
4 percent will serve turkey parts – breasts or legs – only… and
4 percent don't plan to serve turkey at al.
The poll says a full 93 percent of Americans plan to have turkey in some form on Thanksgiving.
My take: The numbers indicate that more folks are planning big family get-together this year than in the previous three. A full third of those cooking will roast a large bird – to serve a large crowd. Even though COVID is still around and an updated vaccine is available everywhere this fall, life has returned more or less to normal.
White meat or dark?
The perennial standoff persists. Some folks insist that white breast meat is the most desirable part of the turkey. Others claim that the dark meat on the legs, thighs and wings is more flavourful, tender and juicy.
44 percent prefer white meat
20 percent prefer dark meat
25 percent prefer an equal mix of both dark and white meat
11 percent don't have a preference
Overall, Americans in the Northeast (50 percent), South (44 percent) and Midwest (50 percent) are more likely to choose white meat than those in the West (34 percent).
My take: There are a lot more dark meat fans out there than I previously assumed. Will I have to fight for my beloved thigh meat next time I sit down to a Turkey Feast?
The perfect turkey
If you're unsure about any aspect of preparing your Thanksgiving Turkey, feel free to visit my previous post bursting with tips and tricks you'll find indispensable.
Claim your turkey from the supermarket freezer bin jumble as early as possible. Otherwise, you may have to settle for a larger or smaller bird than you wanted.
The last word…
… Goes to the survey report's conclusion:
"Above all, remember that the most important thing about Thanksgiving isn't any one ingredient or dish, it's quality time and good food with loved ones."
Amen.
~ Maggie J.