Time to visit (albeit virtually) the other cradle of European café culture – Rome. What do Romans nibble on when they're quaffing their fancy coffees and aperitifs at their famous streetside open air cafés? Some of their favourites will surprise you while others will seem like old friends…
A Roman Porchetta stand.
Ah, Rome! The Eternal City. Their cuisine is also as immortal as the Seven Hills and the awe-inspiring architecture of the Vatican. And their street food is no exception.
As we hinted in our top, teaser paragraph, Rome's street food is tied inextricably to its world-famous café culture, which along with Paris has set the global standard for dining, as the Romans say, 'al fresco'.
Setting the scene
Picture it: A gaggle of tiny white tables surrounded by spindly white chairs, all under a canopy of overlapping umbrellas. Just waiting for couples and foursomes – and a few singles, nursing espressos while reading their Daily Americans, Il Messaggeros and La Stampas.
They may also be sipping any of a number of other famous Italian coffee drinks, including cappuccinos, macchiatos and lattés. If the fashionable hour has arrived, they might be enjoying an Aperol Spritz, a Bellini, a Prosecco, an Americano or a Negroni.
But what are they eating?
On our menu today
Pizza al Taglio: Square, thin-crust pies with just about any topping you can imagine, served 'al taglio' – by the slice. The original Italian grab-and-go food. Pizza joints are just about as common on the streets of Rome as pasta take-outs.
Pizza con la Mortazza: Mortadella – the universal Pork Sausage loaf of Italy – on a nice, fresh Focaccia bun.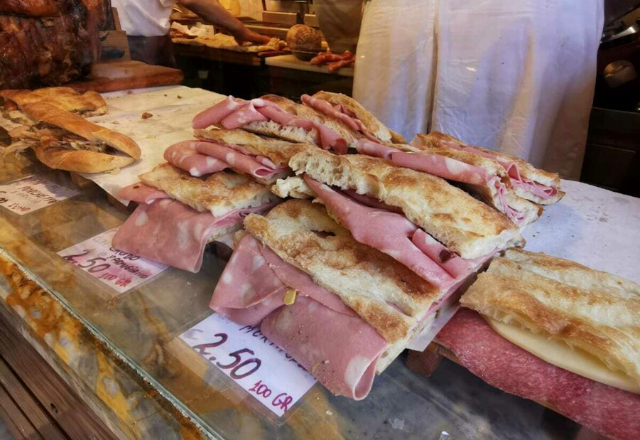 Sweet and simple. And available on every street corner. The essence of Grab-and-go.
Suppli: Fried Rice Balls. Stuffed with Marinara and Mozzarella. The red sauce traditionally has lots of ground meat. Just pick it up in your fingers and bite in. Suppli are quire large by the usual standards represented by Falafel, Scotch Eggs and similar dishes, but you usually get 2 to an order. And how cop0nvenient is it that the dipping sauce is already inside!
Baccala: Deep-fried Salt Cod Balls. You'll get a good handful of ping-pong ball sized sized orbs or bite-sized chunks per order in a paper cone, with Marinara for dipping. The Fish and Chips of Italy – but without the Chips. Also an ancient Italian nickname.*
Trapizzino: Described by one reviewer as a triangle of thick Pizza Crust stuffed any of a variety of fillings, it's another paper-cone take-away fave.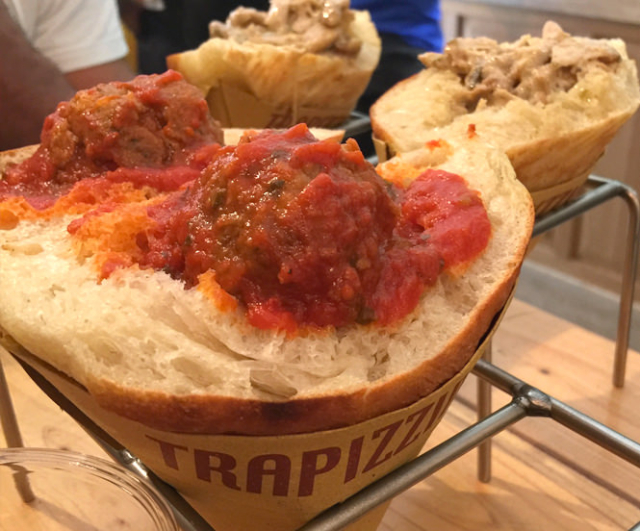 Most popular variants are: Meatball, Baked Eggplant alla Parmigiana, Chicken Cacciatora, and Tongue with Salsa Verde (Parsley pesto).
Porchetta: "Whole roast pig stuffed with garlic, rosemary and fennel." There's a stand or truck on every corner just waiting to freshly slice the juicy meat and crumble the cracklings onto a long, baguette-style bun right in front of you. The king of Italian street sandwiches. Given the chance, I wouldn't have my Roast Pork any other way.
Carciofi alla Giudia: Deep-fried Artichokes. A major contribution to Rome's traditional street food ro9ster by the city's vibrant though little-known Jewish community.
They look a little odd, if you're encountering them for the first time. But the flavour is said to be like nothing else you'll ever taste.
Gelato: Italian Ice Cream. But more than just ice cream. It's just 6 – 10 percent butterfat, which is somewhat lighter than what we call ice cream. A refreshing, creamy, non-palate-cloying hot weather treat. Comes in just about every flavour you can imagine. Everybody loves it.
The greatest thing about Roman Street Food…
… Is you can make it at home if you want to! Just Google any of the dishes we've spotlighted today and go for it. And remember, because it's street food, you can make any modifications or hacks that strike your fancy. Viva Italia!
~ Maggie J.
***
* Fun Fact: 'Baccala' was the nickname of the chubby Sopranos character, Roberto 'Bobby Baccala' Baccalieri Jr., a Soprano Family 'insider'. It suits the character's fate, gangland style execution after being found to be working with the feds, that the nickjname is a common one in Italy, meaning 'a foolish person'. Actor Steve Schirripa, who created the character of Bobby for the small screen back in 2007, is currently playing Detective Anthony Abetemarco on the police drama Blue Bloods. You can't keep a great, underappreciated character actor down! ~ M.J.