This Indian favourite can be made hot or not, depending on your taste, but you don't have to give up any of the authentic Masala flavour. You'll love this easy recipe and so will your family and/or guests who'll think you slaved all day! And don't forget to make authentic Basmati Rice to serve it over…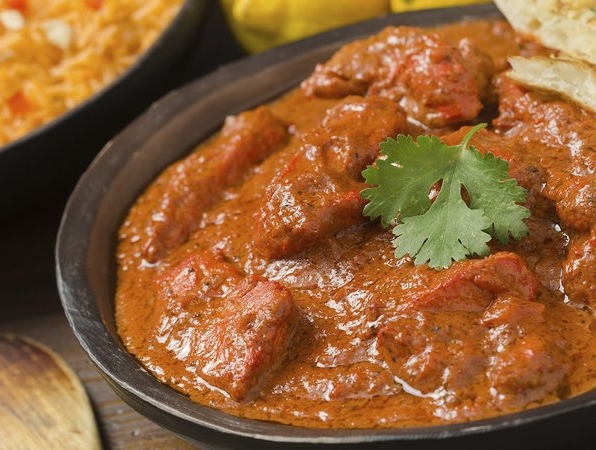 Beautiful Chicken Tikka Masala. The secret is… patience!
Along with Butter Chicken, this is one of the best known and most loved Indian 'stews'. There's no real secret to making it. But if the was a secret, it would be patience, and lots of it.
What you need…
1 lb. / 500 g boneless, skinless Chicken Thighs
1 large Onion, diced fine
3 cloves Garlic, minced or pressed
1 tsp. / 5 ml ground Ginger (or more, to taste)
2 tbsp. / 30 ml Tomato Paste
1 tbsp. / 30 ml Garam Masala
2 tsp. / 10 ml Paprika (or more, if you like it hotter)
2 tsp. / 10 ml Salt
1 (28-ounce) can Diced Tomatoes
3/4 cup / 175 ml Heavy Cream or Coconut Milk
What the heck is Garam Masala?
It's one of the basic, regional spice blends of India. You can get it pre-mixed at Asian Grocery stores or in the Asian section at your regular Supermarket. You can also make your own, if you want. There are lots of 'recipes' for this spice blend on the Web. Have a look and try one that catches your fancy! And remember: making your own lets you have it just the way you like it!
Garam Masala is not hot; that's why we have the Paprika in this Tika Masala recipe…
What you do…
Cut the Chicken Thiggs into bite-sized pieces.
Place the Chicken and Spices in the Slow Cooker and toss until the Chicken is well coated.
Dump all the other ingredients except the Cream/Coconut Milk in the Sow Cooker and let cook on  low for 6-8 hours.
About 15 minutes before serving, add the Cream/Coconut Milk and stir in gently.
Let the cooker go for another 15 minutes to allow the sauce to thicken and become creamy.
Serve over Basmati Rice for a really authentic flavour and presentation.
And that's all there is to it!
We'll look at Butter Chicken as it relates to the slow-cooker in the very near future…
~ Maggie J.