Here's the Italian version of an elegant, flavourful, creamy side dish that most folks think is difficult and time consuming to prepare. Most folks also think there are manifold Chefly secrets involved in creating the perfect Risotto. But I'm going to show you how it's really done – and in under twenty-five minutes!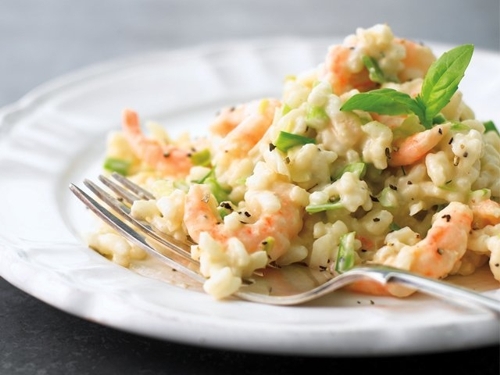 Beautiful, creamy Shrimp Risotto. This version uses Shrimp or other seafood stock
(think: Clam Juice!) and features delicate flavours such as Fennel,
Dill, Tarragon, Lemon and White Wine!
There are two critical ingredients in Risotto: Rice and Stock.
First, the Rice…
The rice must be a nice starchy short-grain type, like classic Italian Arborio. You can this rice in almost any supermarket, these days. If you're skunked there, try your neighbourhood Bulk Food store.They're almost certain to have it!
Hint: You can also use easier-to-find Arborio in place of Spanish Albufera in Paella or in place of the usual long-grain White Rice for a richer, creamier Pilaf.
Next, the Stock…
You must have on hand a goodly amount (at least two and a half times the volume of your dry rice) savoury stock of come kind on hand and brought to a spirited simmer before starting your Risotto. The stick MUST be hot when adding it to the rice!
Now, the technique…
In a deep-sided frying pan or a shallow braising pan, heat three tablespoons of Butter on medium heat until it just starts to froth. Add some finely ground onion any hard herbs you like (Thyme, Rosemary, Oregano, Bay Leaf) and stir gently until the onion is transparent and fragrant. Then add one or two cloves of minced garlic, according to your taste. But do add some garlic. The dish just isn't the same without it! Stir for another minute, until you can small the Garlic.
Then pour in your rice (one cup to serve four to six persons) and stir until it absorbs almost all the remaining oil. All rice grains should be covered in oil and the Rice should be on the verge of browning. Call it the 'toasty' stage.
Then start adding the stock a half-cup (125 ml / 4 oz.) at a time, stirring gently all the while. Stir until the rice absorbs almost all the liquid and add another half-cup. Keep repeating the add/stir/absorb cycle until the rice is cooked and a creamy sauce has developed. This take about 20 minutes. Resist the temptation to speed up cooking by turning up the heat! This just ruins the dish…
When the rice is cooked, the dish is done! cover and remove from heat until serving time. Just before serving, stir in a generous amount of grated Parmesan or Romano Cheese and garnish with more grated Cheese and chopped Fresh Basil Leaves.
And there you have it! there are many, many versions of Risotto, highlighting many different ingredients. Have fun and experiment!
See? You don't have to be a Chef to cook like one!
~ Maggie J.